Spot Farms dog treats are made in the USA using USDA approved meats from family farms across the country. All ingredients in their treats are 100% human food grade and the treats contain no harmful ingredients such as BHA or BHT. Produced entirely in the United States in small batches, these chews are the image of home-cooked goodness.
What makes Spot Farms dog chews unique?
The back of each and every package of Spot Farms dog treats highlights the family farm where the livestock from that batch of treats was raised. You don't have to worry about hidden ingredients or indistinct origins here. And their natural promise means you should be able to pronounce every ingredient in the ingredients list, no artificial colours or preservatives included. They're also free of corn, wheat, and soy.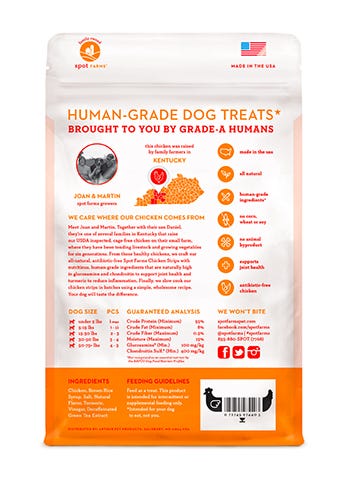 What are their best features?
The best features of these treats, other than knowing exactly where the meat comes from, has to be the delicious flavours, from hickory-smoked turkey bacon to chicken apple sausage. The chicken chews also come in varieties with a range of added nutrients and ingredients, such as glucosamine & condroitin for joints, chamomile & tryptophan for calmness, and taurine, turmeric, and flax seed for your dog's heart health.
What is one thing that could be improved?
We'd love to see even more varieties, maybe with alternative meat sources, such as bison, duck, or venison. And more yummy flavour combinations!
Why try Spot Farms treats?
If you're wary of chicken jerky treats from China, but your dog loves jerky chews, give Spot Farms treats a try. You have the security of knowing exactly where their human-grade meat comes from and can support local family farms instead of massive industrial operations. This makes Spot Farms a green, food-safe, and ethical option for your dog's tasty benefit.
Meet the Farmers
Spot Farms has a unique feature on the back of each bag they produce. One of the families that raises the livestock that goes into each bag is highlighted. Meet Joan and Martin, who you can see featured on Spot Farms Chicken Strips bags.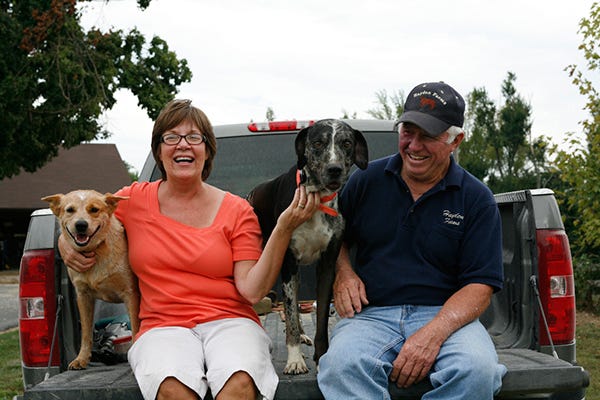 Joan and Martin, along with their son Daniel are one of several families in Kentucky that raise Spot Farms' USDA inspected, antibiotic-free chicken on their small farm. Being "part of something bigger" brings joy to Joan, Martin and their family. Their commitment to the farm, community involvement and providing families (and dogs!) with healthy, antibiotic-free chicken does exactly that. Martin is a sixth generation family farmer: "When you make your living off the land, you take good care of it."
Joan and Martin's knowledge of farming and the land yields a great product. In fact, chicken from their farm was served to Queen Elizabeth when she attended the Kentucky Derby! Now you can say you're definitely giving your dog a "royal" treat with Spot Farms.
---
Posted by Amy Dyck
---