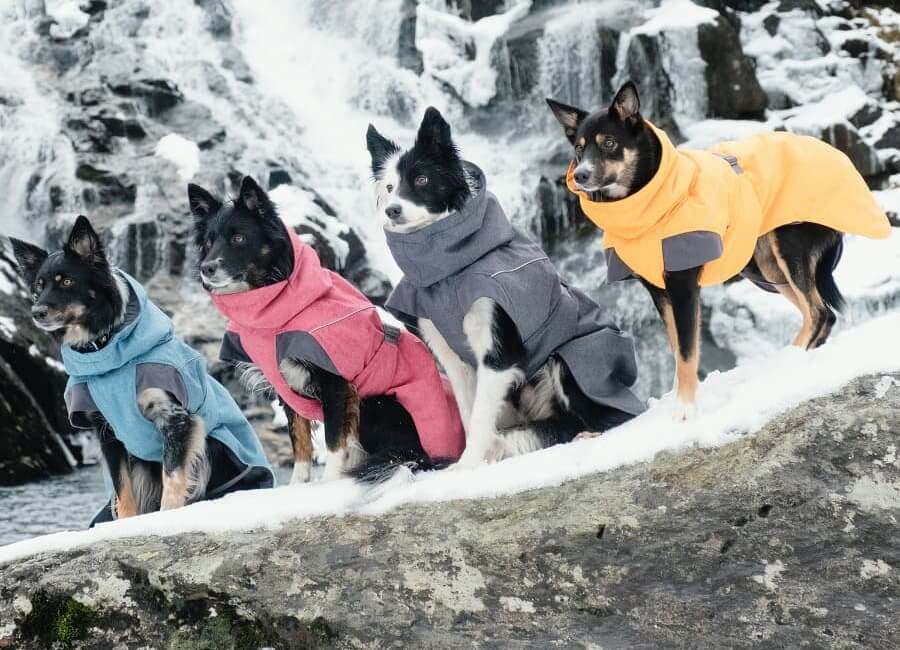 Sure, dogs have built-in coats, but can they really stand up to winter? If your dog needs some extra protection from the elements, then check out our list of the best dog winter coats.
Depending on where you live in Canada, winter might mean something drastically different, and that means you need the winter dog coat that is best suited to your climate.
If you live in Alberta, like us, then you know winter is no joke. 40 below zero is not uncommon in the heart of winter, so you might need a much different winter dog jacket than if you and your pooch hail from the lower mainland of B.C.
Fortunately, we have something for everyone. No matter how cold, icy, windy, or rainy your winters are, we have a winter dog jacket for any climate that will keep your dog warm and dry.
Does My Dog Need a Winter Coat?
Though it may seem silly, dog winter coats are actually recommended for a lot of dogs. Yes, some dogs are designed to handle winter better than others, but many of the most popular dog breeds in Canada aren't naturally insulated enough to handle all of Canada's varying degrees of cold.
If you notice your best dog friend shivering, refusing to go outside, or acting odd or agitated on your walk, then he may just be too cold.
You should definitely consider a winter dog coat if you have a dog that fits any of the following characteristics:
Toy or small breed
Short-haired or hairless
Short-legged dogs
Dog breeds that fall under one or more of these categories have a particular disadvantage against cold weather and will likely be the first ones to decide to stay inside cuddled up on the couch.
To learn more about the importance of the best dog winter coats, check out Does My Dog Need a Coat?
Do Dogs Grow Winter Coats?
You might be thinking that dogs grow their own dog winter coat, right? While it's true that many dog breeds have a thick undercoat that grows in fall, that doesn't mean that coat is designed to withstand harsh Canadian winters.
Most dogs with an undercoat may not need a coat in moderate winter temps, but a -30 prairie winter is too cold for even the best winter dog breeds.
Some best dog breeds, like the Husky, can handle some pretty extreme temperatures, but even they may need to be protected from the elements if the winter weather is exceptionally biting.
Lighter layers and best dog boots may be enough for them, but if you see signs that your best dog is feeling the cold, then don't hesitate to invest in a winter dog coat.
How to Measure a Dog for a Winter Coat
One of the ways to make sure your best dog stays safe and warm in winter is to make sure that you choose a winter dog jacket that is properly fitted to their shape and range of movement. It's not just about finding a coat that is cute, it has to fit properly to insulate and block out wind and snow effectively.
Most dog winter coats are sized based on the length and girth of your dog, so before you start shopping, grab a flexible measuring tape and measure the widest part of your dog's chest girth and the length of their back from the base of the neck to the base of the tail.
Other styles may require additional measurements. Dog snow suits, for example, may offer a leg length measurement to make sure all four legs of the suit will comfortably fit your pooch.
Check out How to Measure Your Dog for more measuring tips and tricks and to help you find the right size winter dog jacket.
10 Best Winter Dogs Coats (and a Budget-Friendly Bonus)
Every dog is different. This means that different dog winter jackets are better suited to different dog shapes, sizes, and even their activities. That's why we chose dog winter coats for just about every situation so that you can get the right dog winter coat for your pooch and your climate.
Take a look at our favourite and most popular winter dog jackets:
Small Winter Dog Coats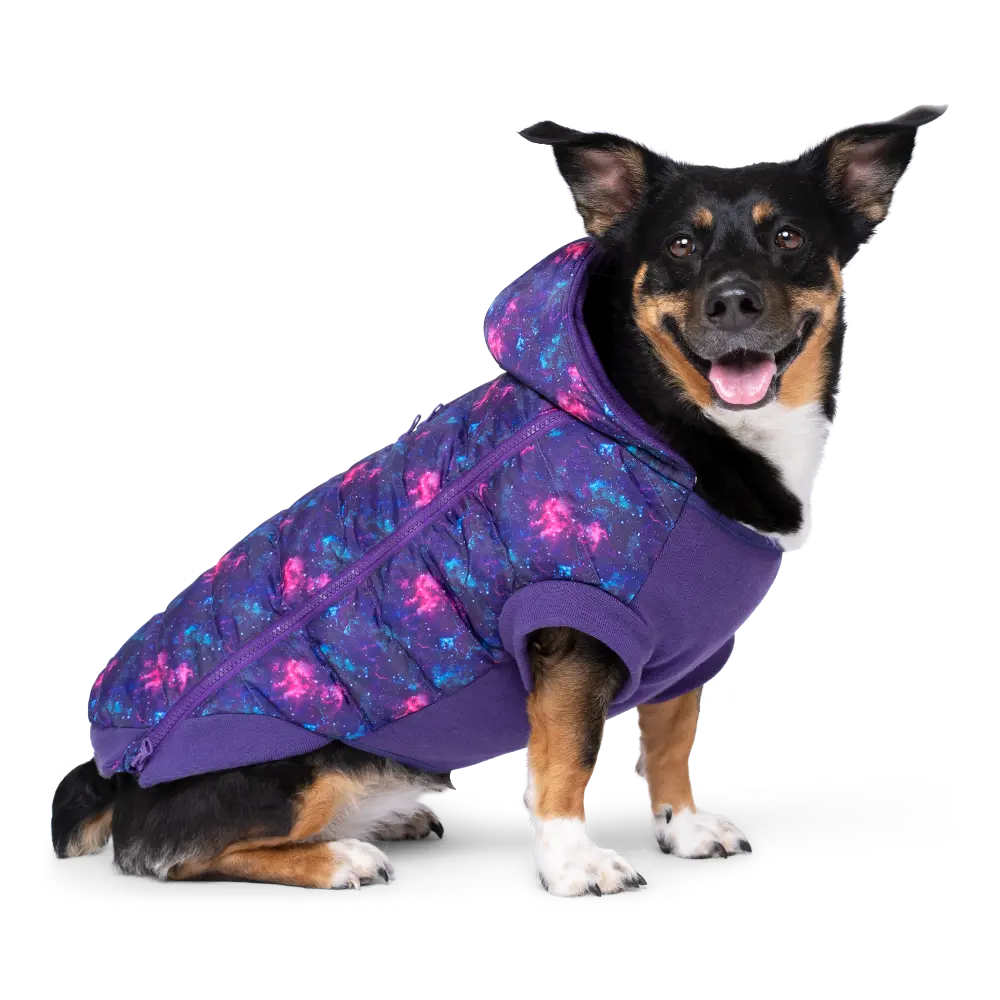 Smaller dogs tend to have less muscle mass, which means they can get colder a lot faster. Many small breeds are bred from warmer climates, too, so to keep them from feeling that chill right down to their bones, why not try our favourite

dog winter coat

for small dogs.
1. Canada Pooch Prism Puffer Vest
The Canada Pooch Prism Puffer Vest is the perfect blend of warm, comfortable, and stylish. With sizes for dogs as small as 5lbs, the Prism Puffer Vest will be just what your tiny pooch needs to enjoy your dog's winter walks. The side zipper closure system makes it easy to put on and take off.
The dog puffer vest is made of a water-resistant nylon outer shell and a polyester interior to keep even the skinniest and shortest-haired pup nice and toasty on a cold winter day.
Large Dog Winter Coats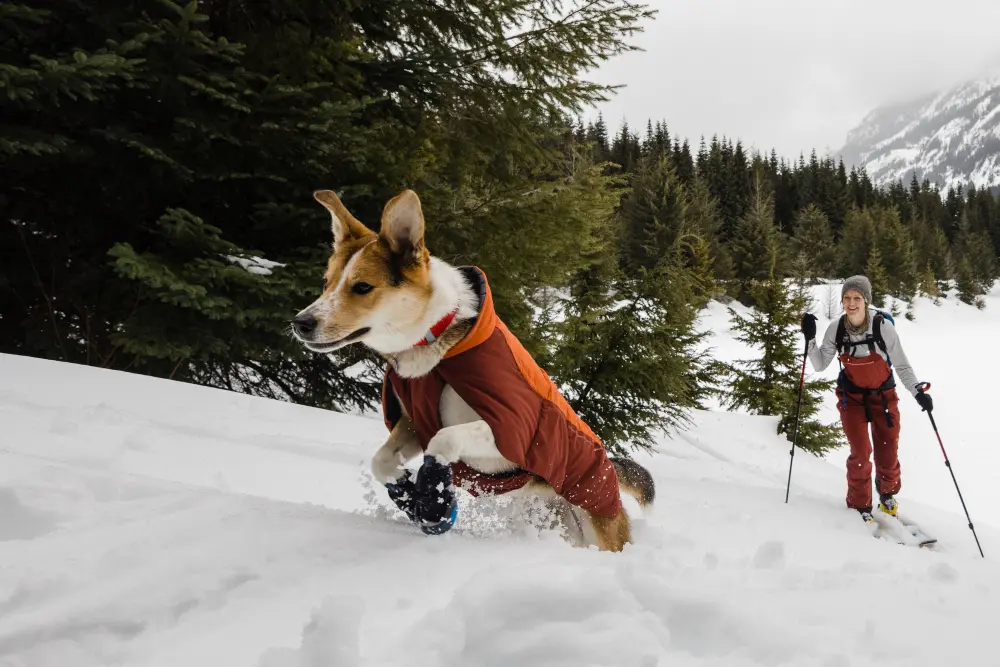 Many big dogs don't have the natural dog winter coat needed to tolerate winter temperatures, but they can also be hard to shop for. Dog apparel tends to focus on small and medium breeds, so you may find your sizing options limited, especially in the cuter or more trendy doggy fashions.
Fortunately, we have fun and comfortable options for large and giant breeds to stay warm on your next dog winter coat walk.
2. Ruffwear Vert Jacket
Big dogs tend to have a little more meat on their bones to keep warm, but they still need protection from the elements. The Ruffwear Vert Jacket features a weather-resistant outer shell and recycled polyester insulation to help keep your big pooch from feeling the chill of winter weather.
The large storm collar helps to block wind and prevent snow and water from seeping under the coat. The elastic leg straps help keep him warm and prevent the jacket from sliding or moving when your dog moves.
Waterproof Winter Dog Coat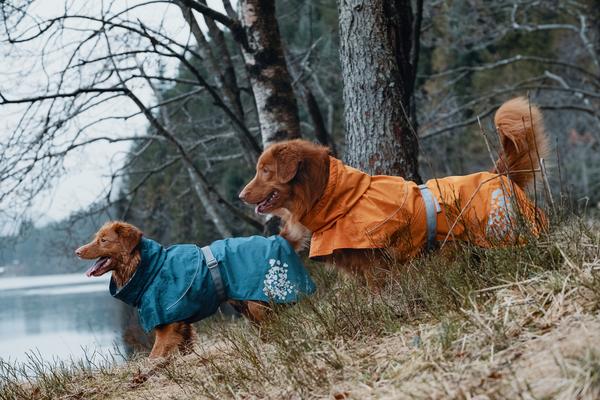 Winter can be unpredictable, especially when you live near the coast. This means that snow and cold might not be the only weather you need to protect your dog from. Rain and sleet can be just as much of a nuisance, so a waterproof winter dog coat could be just the thing you need to keep your dog warm and dry!
3. Hurtta Monsoon Coat
For those of you hailing from the west coast, you might be more familiar with months of cool rain instead of snow and ice. If that's the case, then the Hurtta Monsoon Coat will keep your dog warm and, most importantly, dry.
The outer Houndtex layer provides an elastic, silent, and breathable shell to keep your dog dry and comfortable. The high collar and large belly flap give this coat a snug fit to keep your dog's core muscles dry and clean.
4. Ruffwear Overcoat Fuse Jacket
For dogs that hate bulky dog jackets, the Ruffwear Overcoat Fuse Dog Jackets are the perfect lightweight and water-resistant solution. Great for dogs in cool, rainy climates, this insulated, weather-resistant vest-style dog jacket gives your dog the comfort and flexibility he needs to adventure.
By covering their back, chest, and belly, this dog jacket helps to keep your dog's core muscles warm. It's great for dogs that don't mind hanging out outside in winter but just need to block the cool wind, rain, or wet snow from putting a damper on their favourite outdoor activities.
Winter Dog Coat for Extreme Cold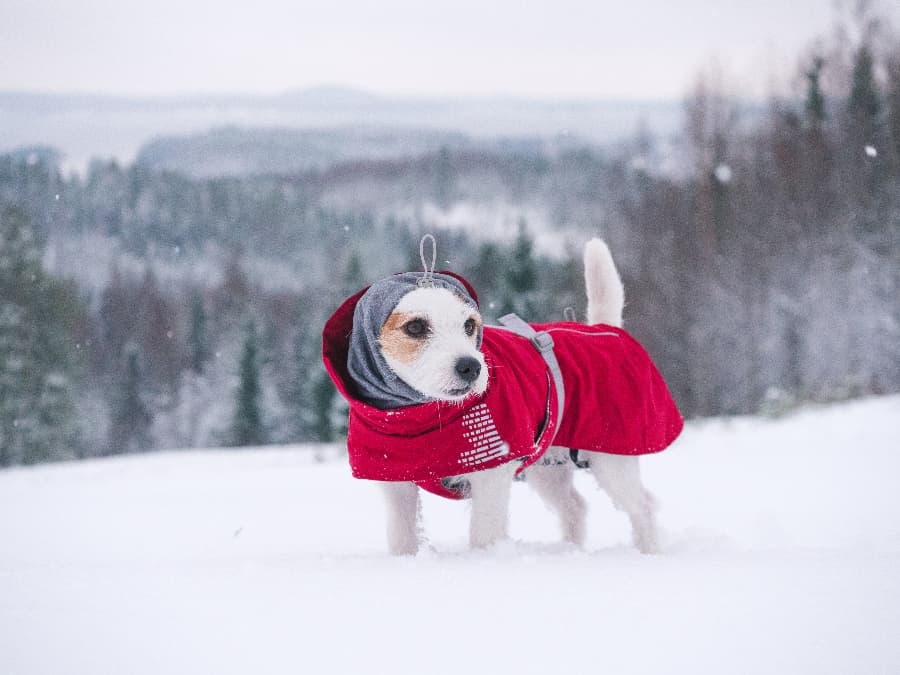 Even dogs that love winter might struggle when the weather drops to sub-zero temperatures. Extreme cold can quickly become dangerous if your dog doesn't have the proper protection, and you'll need a dog coat rated for such extreme temperatures.
5. Hurtta Extreme Warmer
Your dog needs his daily exercise no matter how frosty the weather gets, so if you live in an area that deals with extreme cold and snow, then you need to invest in a Ruffwear Extreme Warmer.
The insulated inner liner reflects heat back into your dog to help him retain natural body heat, and the waterproof outer shell is lined with a breathable water-proof film to keep your pooch warm and dry. Plus, this coat is made using recycled material, so this is one coat you can feel good about.
6. Hurtta Body Warmer
Sometimes the windchill in the prairies can be too cold for even the most winter-friendly breeds, and if there is one thing we know about staying warm, it's that layering is one of the most effective ways to keep toasty.
This foil-lined Hurtta Body Warmer is made of breathable and elastic material and is the perfect pairing for any winter attire. The full legs and snug fit ensure that your dog can enjoy winter walks even when the weather dips into arctic temperatures or can be used by itself when that chilly fall wind starts to roll in.
Dog Snowsuit for Winter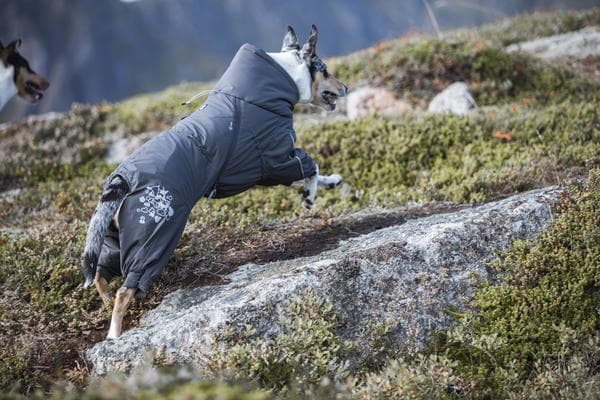 Photo Credit: Hurtta
Dog winter coats are great and all, but when we want to play sessions in the snow and extreme cold, we put on a nice warm pair of snow pants. Don't our dogs deserve the same winter gear? Dog snowsuits may be amusing, but they can be a game-changer if your dog loves to gallop through the snow.
7. Hurtta Extreme Overall
Take your dog's winter activities to the next level with the Hurtta Extreme Overalls. Providing your dog full coverage from the elements will keep him warm from collar to ankle, so you don't have to cut your dog's outdoor activities short.
8. Canada Pooch The Snow Suit
Canada The Pooch Snow Suit is a water-resistant and foil-lined snowsuit that is just what your dog needs to stay warm during his favourite romps in the snow. The full body shape and neck circumference coverage keep your dog's core muscles warm, while the legs prevent your dog's less meaty areas from getting too cold.
Winter Coats for Long Dogs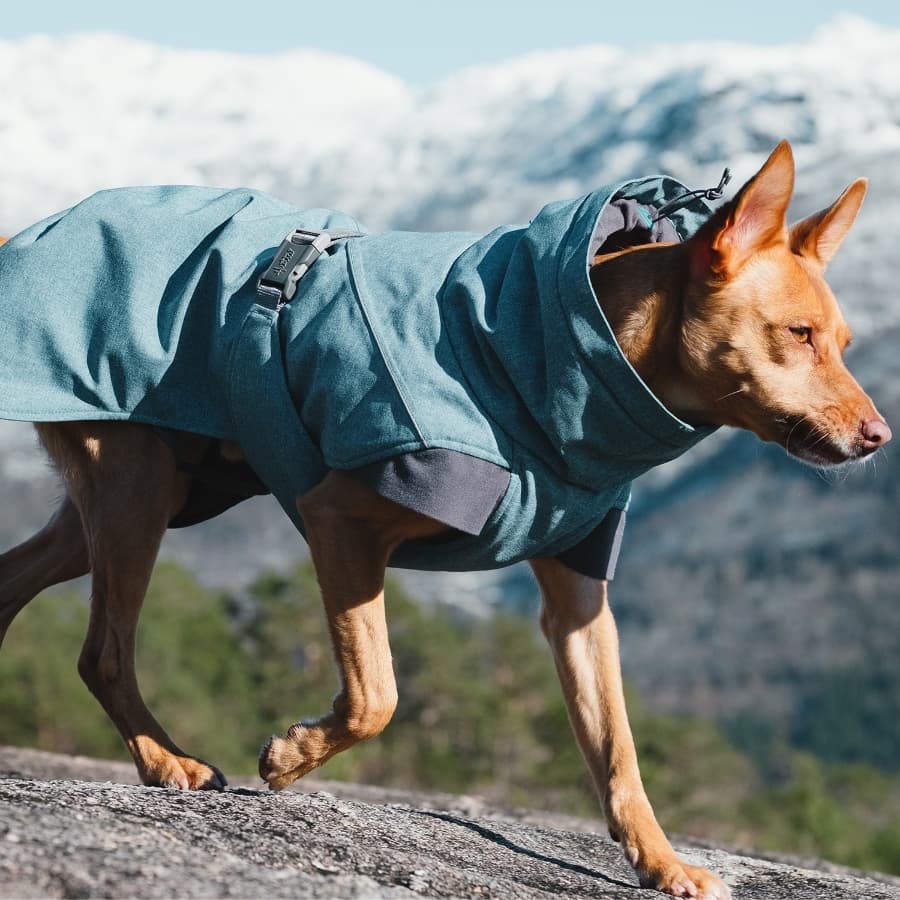 Our favourite long-bodied friends can be the toughest dogs to buy dog clothes for. They need something that's going to be long enough to protect their core muscles, but they don't always need the wide girth that comes with bigger sizes.
Dachshunds are among the most notoriously difficult breeds to find clothes for because of their long slender bodies. It might fit her chest but end up looking like a crop top. Or maybe you find the right length, but they are swimming in the girth.
Luckily, there are a few brands that keep these uniquely shaped breeds in mind.
9. Hurtta Expedition Parka
One of the best all-around winter dog coats is the Hurtta Expedition Parka. Specifically designed for short-coated dogs, the Expedition dog parkas has a soft inner lining that helps your dog retain body heat while being comfortable enough for your dog's favourite winter activities.
They have specialty sizes for dogs with long bodies or short legs, like dachshunds or corgis, that need a little extra material to cover their long torso but don't need the extra girth that a larger coat offers. The Expedition Parka has a full and adjustable underlayer to protect their bare bellies from the snow and cold.
10. Ruffwear Climate Changer Jacket for Dogs
For those lucky short pups that live in more moderate winter climates, the Ruffwear Climate Changer Jacket is a lightweight and breathable jacket with a full chest piece to keep them warm, no matter how close to the ground they may be.
The short-capped sleeves help keep wind and snow off their core muscles and prevent snow and ice from building up as they walk through the snowy grass. The convenient side zipper makes it easy to take on and off even the most unique dog body shape.
Cheap Dog Winter Coats
Getting comfortable and much-needed dog clothing doesn't have to give you sticker shock! If you have a growing pup or multiple dogs to clothe, you may be looking for something that doesn't require taking out a second mortgage on your house.
When it comes to dog clothes, you want something affordable, but the most affordable options may not always be the quality you are looking for. That's the difference between affordable and cheap. But don't worry; we skipped the cheap stuff and found high-quality and affordable options for dog owners on a budget.
Bonus Pick: Silver Paw Quilted Hoodie Jacket
This stylish hoodie-style jacket is a great deal for dogs needing to keep warm on a budget. The Silver Paw Quilted Hoodie Jacket is a lightweight polyester jacket that is warm enough for moderate winter temps and comfortable enough for dogs that love to play sessions.
The turtle neck and short-sleeved design protect your dog's core from cold wind and snow. Using a patented antimicrobial technology called Silver Shield, the dog coat is resistant to odour-causing bacteria, mould, and mildew.
Extra Winter Accessories
Sometimes a coat just isn't enough by itself. To make sure your dog stays nice and toasty on your winter walks, then some extra accessories might be just what you need. Besides, these things are so cute! How can you resist?
Dog Sweaters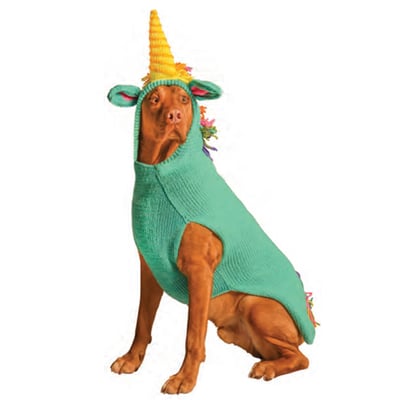 Sweaters may not be warm enough on their own but can be used as an underlayer for any winter dog coat. These are especially great for short-haired breeds that need just a little more insulation.
Layering is also great for climates with unpredictable weather. A cloudy or windy winter day might require an extra layer or two, but when the sun comes out, you can easily shed a layer and let your dog's adorable sweater shine through.
Chilly Dog Sweaters
Sometimes the best way to beat the cold is to layer up. Chilly Dog Sweaters are not only a great inner layer for those extra cold winter walks, but they are adorable! Who doesn't want to dress their dog up as a bunny or a fox?
Silver Paw Venice Hoodie
This casual sweater is perfect for mild fall weather walks and chilly evenings at home. The Silver Paw Venice Hoodie is a pullover dog hoodie that is lightweight, comfortable, and absolutely adorable. This sweater uses Silver Paw's Silver Shield technology to combat odour-causing bacteria and lasts over 100 washes.
Looking for even more adorable dog sweaters? Check out our Top 15 Best Dog Sweaters to keep your dog warm and comfortable in cool weather.
Dog Hats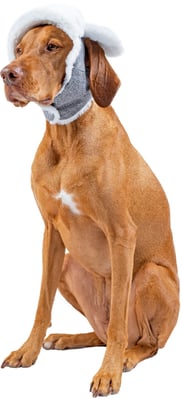 I know, I know. You're thinking, "dog hats, really!?!" It sounds silly, but they can be helpful in some of the more extreme climates of the prairies and the territories where winter feels like the ice age. Hats aren't for every dog, but those who need a hat the most will learn to appreciate the much-needed warmth.
Canada Pooch Arctic Air Hat
Holy moley, this thing is cute! The Canada Pooch Arctic Air Hat is the perfect addition to your dog's winter wardrobe, with a warm fleece lining and a durable polyester outer shell. The ear flaps allow for comfort and don't impede hearing but help to keep the delicate skin of the ears and head toasty when that winter wind starts to bite.
Cold, dry winters can take a toll on your dog's delicate skin. Keeping them warm and safe is one part of protecting their skin. Check out our other tips for Treating Your Dog's Dry Skin in Winter.
Dog Boots
One of the first signs that it's too cold for your dog is when he starts lifting his paws. This means that the snow and ice are so cold on their paws that it's starting to hurt, so they lift one paw at a time to get a short reprieve. If your dog does this, then it's time to invest in some dog boots.
Muttluks Fleece-Lined Dog Boots
These extra warm Muttluks Fleece-Lined Dog Boots help keep those doggy toes toasty and dry while they frolic through the snow. The high leg of the boot makes for a comfortable, flexible, and snug fit to keep the boots secure and provide warmth for the lower and less meaty parts of their legs.
Ruffwear Summit Trex Dog Boots
For dogs with more active winter activities, the Ruffwear Polar Trex Dog Boots have a durable sole that helps to provide traction and grip so that snow and ice can't slow down your pooch. This DWR-coated boot keeps your dog's paws warm and dry no matter what conditions winter throws you.
These are just a few of the many kinds of dog boots to protect your dog's paws from the cold and ice and harsh chemicals like road salt that can damage their tender paws. For more dog boot tips and recommendations, check out Do Dogs Need Boots for Snow?
Dog Socks
Sometimes a full boot is just a little more than your dog will tolerate, or maybe you live in an area with much drier weather where a sock will be suitable for keeping the ice and snow from collecting on your dog's furry paws. Dog socks are an ideal, lightweight alternative to a more cumbersome dog boot.
GF Pet All Terrain Dog Boots
The number one complaint about dog socks is that they just keep sliding and falling off. GF Pet All Terrain Dog Boots have a velcro strip to help keep the socks from slipping. The bottoms and tip are coated in textured rubber to provide grip indoors and out and help keep your dog's paws dry and free from ice and snow build-up.
Ruffwear Bark'n Boot Liners
Ruffwear Bark'n Boot Liners are the perfect addition to your dog's favourite boots for those extra cold months. They add an additional layer of warmth and protection and help to keep your dog's boots snug and secure.
Dog Winter Jacket FAQ's
Choosing the right winter dog coat can help keep your dog safe in cold weather and make sure he enjoys his favourite outdoor activities even when the weather takes a turn. To help you find the perfect winter dog jacket, we put together a few of the top winter dog coat FAQ's:
Do Dogs Really Need a Winter Coat?
That depends on the weather. Wamrer parts of Canada like mainland BC may not see weather cold enough to require a winter coat. Milder gear like a dog jacket, sweater, or even a raincoat may be all you need to keep your dog warm and dry.
Doggos that reside in the prairies are much more likely to need a thicker, warmer winter dog coat. It's best to keep an eye on the temperature and watch for signs that your dog is feeling cold.
At What Temperature Does My Dog Need a Winter Coat?
On average, we recommend a dog coat whenever the temperature drops below freezing, but not all dogs will need an insulated winter dog jacket until it gets much colder. Depending on their fur type and build, some dogs may be comfortable in subzero temperatures without so much as a sweater.
Consider how wet the weather is too. A dry winter day won't feel as cold to your dog as a wet, rainy, or snowy day. Some winter dog jackets can be weather-resistant or even waterproof to keep your pooch warm.
Which Dog Breeds Need Winter Coats?
There are plenty of dog breeds that would benefit from a winter dog coat, but for some breeds, a winter dog coat is practically required. Dogs with very short fur and no undercoat are going to have more trouble keeping in body heat, as the coat won't be as insulating as a dog with a thicker double coat.
Skinny and toy breeds often need a winter cat for dogs too. Less muscle and body fat make it more difficult them to keep their core muscles warm.
Here are some popular dog breeds that will most likely need a winter coat to survive a Canadian winter:
Chihuahuas
Greyhounds
Pitbulls
Boxers
Dachshunds
Yorkshire Terriers
Great Danes
Do All Dogs Need a Winter Coat?
Nope. Some dogs, unless you are dealing with very extreme cold, are perfectly fine in average winter temperatures with their natural winter coats. Breeds like Siberian Huskies, Alaskan Malamutes, Newfoundlanders, and Bernese Mountain Dogs may actually prefer cold weather.
What is the Best Winter Coat for Dogs?
We have plenty of dog winter jackets to choose from, but which one is the best? Every dog is different, so there isn't really one dog coat that is best for every pooch. The style that is best for your dog will depend on his cold tolerance, the climate you live in, and even how the style fits your dog.
Does winter get your dog down? What winter gear do you use to keep your dog warm and safe during the harsh winter months? Let us know in the comments below!