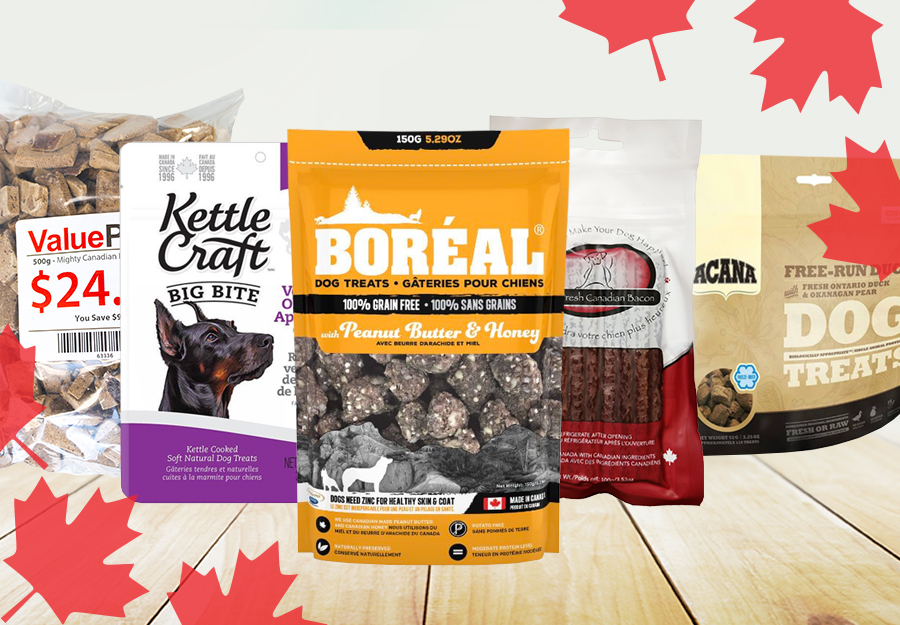 If you are looking for the best dog treat you can feel good about feeding your dog, then look no further. The best dog treats are made right here in Canada. Your dog will love the taste, and you'll know that the ingredients are safe and sourced from trusted Canadian pet supplies farmers, fishermen, and abundant natural resources--allowing you to ensure your dog's safety.
Too many pet food companies offer cheap (and cheaply made) best dog treats, packing them full of artificial flavours and preservatives, along with human-grade ingredients that are not good for your pet's digestive system. We like to think these folks are not dog owners.
The good news is you don't have to buy these terrible 'treats' for your pup. Instead, enjoy our top picks for the best homemade dog treats, which also happen to be some of the best dog treats in the world.
The Benefits of Canadian Dog Treats
We all know the benefits of shopping locally. Supporting local businesses, farmers, and manufacturers helps our economy grow, but Canadian dog treats also offer an exceptional and trusted quality that can make us treats for training confident about the snacks we feed our small dogs.
To help guide you when shopping for the best dog treats to buy for your four-legged friend, here's our list of the best dog treat brands in Canada that you can feel good about giving your doggo. You'll find delectable soft, chewy dog treats, flavour-packed freeze dog treats, and even chewy jerky dog treats.
1. ValuePack Canadian Beef Liver Best Dog Treats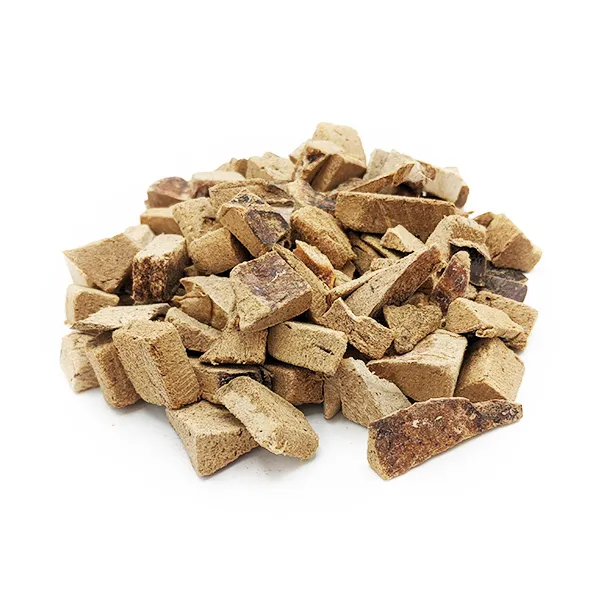 ValuePack Freeze Canadian Beef Liver Bites are about the best bang for your buck that you can get for a dog treat bag. Where else can you get 900 g of dried Canadian-sourced liver lot of treats of beef for only $34.99? This is a Homes Alive Pets exclusive brand.
We went directly to the manufacturer to provide you with the treats made for training best value. These rectangular-shaped dog soft treats are made and sourced right here in Canada, using only Canadian beef!
ValuePack Bites Benefits
Amazing value!
Single-ingredient treat (great for sensitive diets)
No additives or preservatives
Ideal for dog training treats

sessions
2. Acana High Protein Dog Treats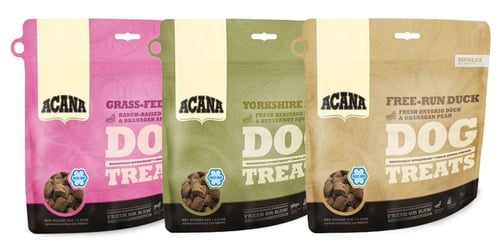 These specialty best Canadian dog treats are the cat's pyjamas for your pup. Acana dog treats are made from ethically raised meat straight from Canadian farms. Acana High Protein Biscuits is great for any homemade dog, young or old, and they're extra tasty and soft, making them easy on the teeth and gut.
These crunchy beef liver biscuits come in two sizes so that you can find the best option for any size dog.
Acana Treat Benefits
Soft texture

Free of synthetic preservatives

Simple, single animal protein (great for sensitive diets)

Suitable for all life stages
3. Zoe Tender Bites
These tasty little morsels are great training treat calories. Zoe Tender Bites are soft and chewy and, best of all, low in calories, making them one of the best dog training treats. With ingredients 100% sourced in North America and crafted in Canada, these yummy bites pet owners supplies are a popular choice in regard to soft dog treats with artificial flavours made in Canada for those with sensitive stomachs and food allergies.
Zoe Tender Bites Benefits
Small bite-sized morsels with only 4 kcals each

Available in peanut butter treats & banana, pumpkin & ginger, apple & cinnamon, and Vanilla & mint

Free of corn, soy, and artificial flavours, colours, or preservatives
4. Nutrience Dog Treats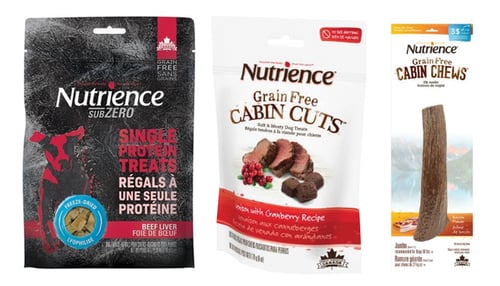 This family of Canadian-made best dog treats covers any and every craving your fur babies friend might have. From tough elk-antler chews to flavourful soft and chewy dog bites, Nutrience Dog Treats offers an all-star line-up when it comes to finding the best treats come for your dog.
Cabin Chews – Perfect for the mightiest chewer in your family (we mean your dog, of course), these durable elk-antler chews are packed with the essential vitamins and minerals glucosamine and calcium. They're an odour-free chew toy to keep your dog occupied for hours. They're also a great oral-care treat!


Freeze-Dried – A superb dried treat filled with nutrients and all the flavours of the protein rainbow. Choose from salmon/cod/hake; beef/pork/lamb-liver; and chicken

jerky, real chicken jerky

breast

/duck mash-ups. Your puppy treats will be packed in all that healthy protein, all while being lost in flavour heaven.
Nutrience Treat Benefits
High in Protein (Freeze-Dried)

Great for oral health (Cabin Chews)

High in essential nutrients

Plenty of variety

5. Puppy Love Dog Treats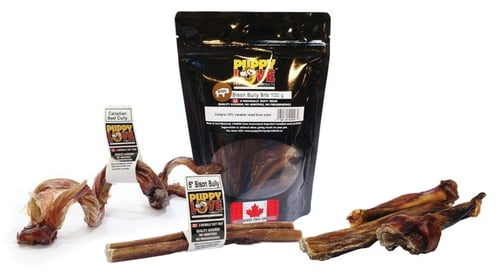 In business since 2007, Puppy treats Love is a company proudly based out of Fort Macleod, Alberta. Their dedication to quality and high manufacturing standards have made them one of the very best quality dog treat suppliers in the country.
Their natural best dog treats are made mouthwatering (for your dog, of course) and include varieties like chicken dog treats recipe, chicken breast or turkey breast, elk liver, beef tendons, and bison backstraps. In addition to their large line of dehydrated natural chews, they offer human-grade products and puppy treats in animal shelters Love also offers a full line of raw bones.
Puppy Love Treat Benefits
Source of real animal protein

Zero artificial additives & preservatives

Great for oral health
6. The Granville Island Pet Treatery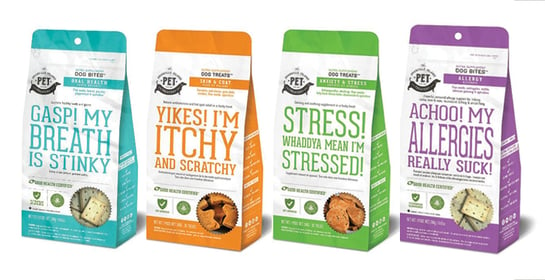 This fun and fresh brand bring a whole new level of energy to your dog's treat time. Granville Island Pet Treatery makes tasty baked dog biscuit recipe to offer your pup a host of health-conscious options to help remedy everything from stiff joints and stress, to itchiness and gas!
They are one of the great way using unique and tasty herbal ingredients, like peppermint, fennel, marshmallow, and dandelion (to ease gas), along with other natural remedies like skullcap, chamomile, and lemon balm (to ease stress).
Granville Island Pet Treat Benefits
The natural ingredients and herbs offer gentle, plant-based remedies to minor health issues

Created by pet nutritionists, medical herbalists, potato starch, garlic powder, and holistic veterinarians

Offers an immense variety of dog treat options
7. My Mighty Wolf Dog Treats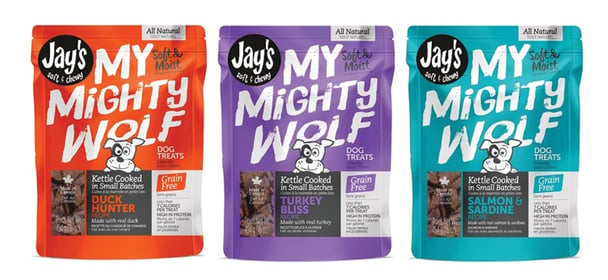 These mighty little treats are like a punch of flavour and nutrients for your little "wolf". With flavours like duck, grain-free salmon/sardine, turkey, and pork, your pup is bound to feel as mighty as a wolf with all that protein. Under the Waggers brand, My Mighty Wolf treats are kettle-cooked to perfection, making for a tasty treat that works for large dogs of all ages and breeds.
My Mighty Wolf Treat Benefits
Low calories

Soft and chewy texture

Made in small batches to ensure quality and freshness

Ideal for dog training rewards
8. Darford Dog Biscuits Dog Treats

With over 30 years in the business, Darford knows what it takes to keep your four-legged friend at their healthiest. Darford proudly crafts simple yet effective premium best dog treats tailored to suit your dog's unique flavour and health needs.
They're baked to crunchy treats perfection and, for training purposes, with your dog's favourite flavours like pumpkin, cheese, peanut butter, and salmon, they'll have your pup begging for more.
Darford Biscuit Treat Benefits
Bulk packed for extra value

Grain-free options available

Simple, natural ingredients

Come in a wide variety of delicious flavours

Available in large and small biscuits
9. Snack 21 Dog Treats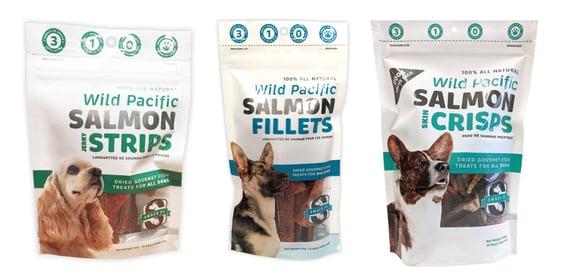 A homegrown company from beautiful British Columbia, Snack 21 dog treats are made of Canadian Pacific wild-caught fish. Snack 21 is dedicated to pet nutrition, and as such, they don't cut corners when it comes to the parts of the fish they put into their treats.
They use only the best meat portions of the fish, ensuring the highest quality of product and flavour for your dog.
Snack 21 Treat Benefits
100% wild-caught Canadian Pacific fish

Crafted in their in-house facility located in Richmond

Delicious and nutritious fish protein

Excellent for skin &

coat

health

Rich in Omega 6 & Omega 3 fatty acids
10. Kettle Craft Dog Treats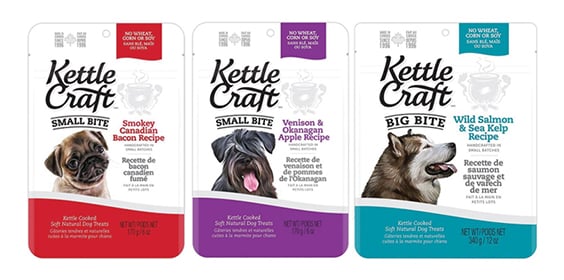 Small batch and cooked to perfection, these tasty morsels are handcrafted to the unique flavour preferences of small dogs everywhere. Kettle Kraft is all about the slow cooking process, where they simmer their treats for hours, soaking in the flavour, and the best way to ensure your small dog will salivate over every bite.
Their wholesome, help keep locally sourced ingredients include venison, prairie chicken, Pacific wild-caught salmon, and (our personal favourite) Okanagan apples.
Kettle Craft Treat Benefits
Slow-cooked and simmered for hours, ensuring delicious flavour
Soft and chewy texture is easy on sensitive teeth
Available in small bite and big bite to suit small and larger breeds
11. Northern Biscuits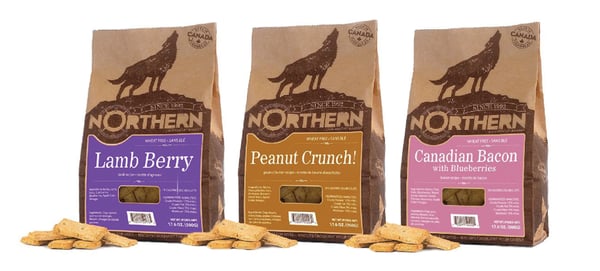 This truly Canadian brand specializes in natural and limited-ingredient dog treats. They are dedicated to sourcing fresh, local ingredients from Canadian food growers to make your dog's favourite treat format as healthy and delicious as possible.
Since the beginning, Northern Biscuit makes their treats to order to maintain freshness, consistency, and quality in their products.
Northern Biscuit Treat Benefits
Available in both without grain or wheat flour-free options

Both crunchy and chewy formats are available

Northern Biscuit minis are ideal for dog treat training and smaller breeds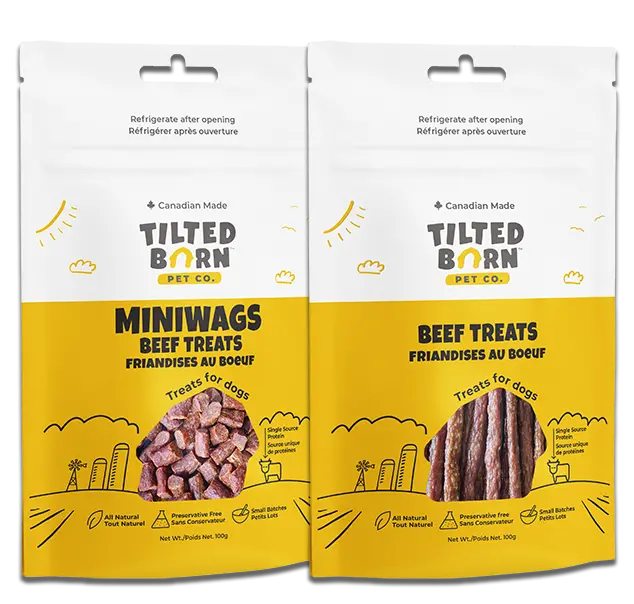 This pepperoni-style treat line is a fan favourite. Packed with flavour (trust us, we've tried them!) and made using only 9 wholesome fresh ingredients, these natural dog treats will satisfy your dog's meaty cravings.
Their soft texture makes them very palatable and easily break into smaller pieces. Tilted barn sources all of its ingredients from human food-grade suppliers from the Canadian prairies.
Tilted Barn Treat Benefits
Available in 3 single protein formulas, beef, pork, and the newest addition, lamb

No preservatives or binders

Suitable for dogs of any size or dog breeds
13. Rollover Dog Treats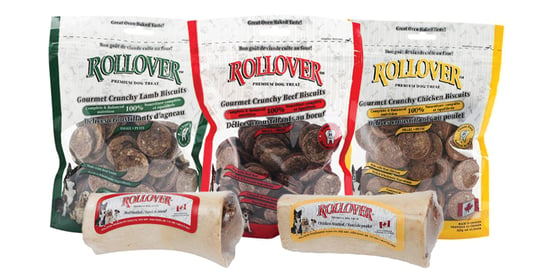 Priding themselves on being a small, family-oriented business, Rollover makes all of its products are hand-made at its privately-owned plant in High River, Alberta. Each treat is made in small batches to ensure quality and consistency.
Their crunchy dog biscuits are made from their signature food rolls, thinly sliced and baked to perfection. Rollover chews and chicken liver skin milk bone are ideal for tough chewers and small dogs that need a longer-lasting chew.
Rollover Treat Benefits
Meat-rich, high-protein treats and chews

Single-ingredient options for allergies and picky eaters

Offered in a variety of shapes, package sizes, and formats to accommodate all types of chewers

14. Jay's Treats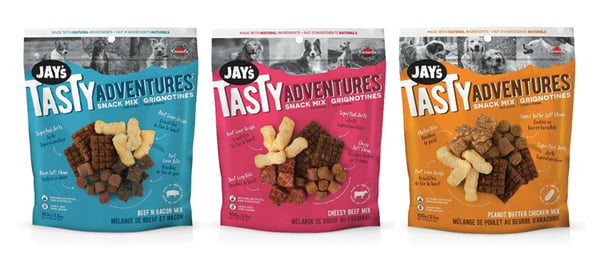 Jay's good quality dog treats are available in a variety of types to suit your treating needs. For very effective training, we recommend trying out Jay's Tasty Adventure snack mixes.
This snack mix is great for treat pouches and provides variety in flavour, texture, and scent to keep your dog excited about training want to consider. Jay's also offers a line of functional dog soft and chewy treats to support hip and joint health.
Jay's Treat Benefits
Highly palatable and great training sessions

Made in small batches to ensure quality and freshness

Easy to digest

Ideal for training dogs

15. Crumps' Natural Treats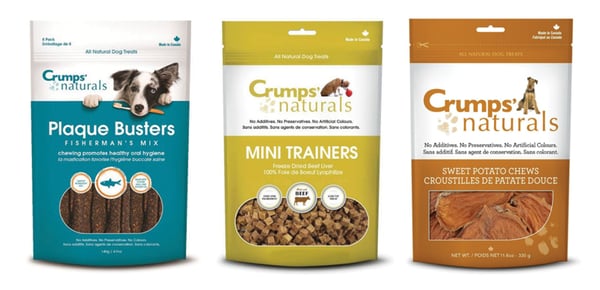 With a focus on making Canadian-made, single-ingredient dog treat, Crumps' had humble beginnings and big dreams. For almost 20 years, Crumps Naturals have continued to innovate new treats and formats to suit any dog.
Their privately owned and operated kitchen in Brampton, Ontario produces all Crumps Naturals products, including their newest line of dehydrated dog food. All ingredients are sourced from North America.
Crumps' Naturals Treat Benefits
Available in chews, dental sticks, and freeze-dried formats

A variety of proteins offer something for everyone from chicken, chicken liver, beef, and lamb, or apple

Made without additives, colours, and preservatives

16. Buddy Jack's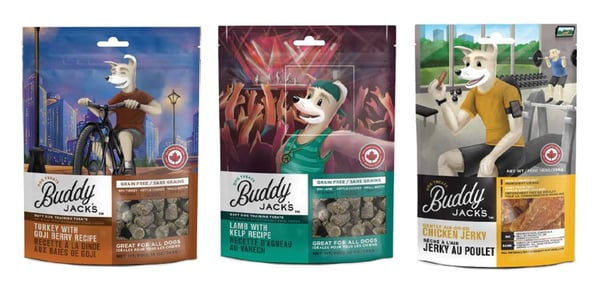 Your buddy deserves only the best and most delicious snacks. Buddy Jack's offers a large variety of treating and snack options. Brought to you by Canadian Jerky co., their signature soft and chewy treats are meaty, pork liver morsels blended with nutrient-dense super dog foods like cranberry, goji berry, and kelp.
They recently expanded their line to include even more treating choices, like jerky or freeze snacks, using only locally produced and sourced ingredients.
Buddy Jack's Treat Benefits
High-meat, low-fat treats (ideal for weight management)
Large variety offers choices for all breeds and ages
Grain-free and low-carb (suitable for allergies)
Functional treats available to support skin + coat, immunity, anxiety, and heart function

17. Benny Bully's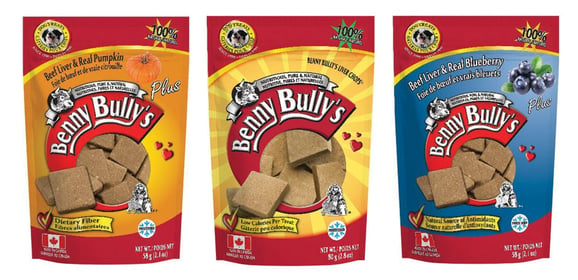 Benny Bullys is one of the pioneers of freeze beef liver treats. Since 1990, Benny Bully's has been using its proprietary freeze-dry technology to make delicious and nutrient-rich liver of beef snacks for all your treating needs.
They started with their original single-ingredient beef liver, and have expanded to include superfood ingredients such as coconut oil and pumpkin to support digestion and immunity.
Benny Bully's Treat Benefits
Free of preservatives or additives
Wheat and grain-free
Easily broken into smaller pieces to suit any treating need
Can be rehydrated or used as a meal topper

18. Oven-Baked Tradition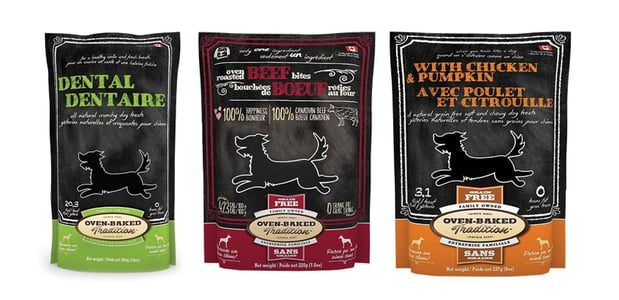 Focusing on slow, low-temp, oven-baked recipes, Oven-Baked Traditions offer a variety of treats to reward your dog. All of their treats are in small batches using simple homemade recipes to ensure quality, consistency, and unbeatable flavour.
Their slow-cooking methods lock in flavour and leave maximum nutrients to support your dog's overall health.
Oven-Baked Tradition Treat Benefits
Low-

calorie intake

Without grain and grain-friendly choices available
Offered in juicy fillets, freeze-dried bites, soft, and chewy nuggets that can be used for treating or meal toppers

19. Petkind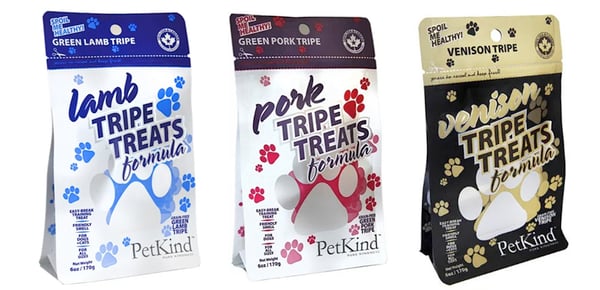 These tasty tripe treats are a crowd-pleaser for all meat-loving doggos. Tripe for dogs is loaded with nutrients like amino acids to help boost your dog's immune system and muscle maintenance. In addition to being nutrient-dense, tripe has an irresistible taste and smell that even the pickiest dogs love.
Petkind offers several flavour options. Choose from venison, pork, beef, lamb, or bison. For pets with allergies or sensitive tummies, try the beef tripe chews. They are great for dental health too.
Petkind Treat Benefits
Without grain options
Easy-to-break treats for any kind of treating
Rich in omega acids to support skin and coat health
Ideal for picky eaters

20. Great Jack's

This extensive line of truly Canadian treats offers something for everyone. From freeze to bully sticks, Great Jack's is designed to provide a complete treating for dogs of all ages and sizing. The soft and bully sticks golden retriever chewy training treats for dogs are made using 60% pork liver, offering a nutrient-dense and low-carb treating option.
Great Jack's freeze raw bites and bully sticks are single ingredients to support the needs of dogs love with allergies and dog food sensitivities.
Great Jack's Treat Benefits
Without grain and low carb
Kettle-cooked, low temp freeze-drying methods lock in nutrients
Low fat, high protein (ideal for weight management)

Your Dog Deserves the Best Treats
Homes Alive Pets is all about finding the very best supplies, treats, and dog foods for your dog – and that means pointing our customers in the right direction as to the healthiest choices for your pet.
That's why we seek out the brands with the best quality ingredients and the highest manufacturing standards to give your pup the highest health standards.
What are your favourite Canadian dog treats? Let us know in the comments!