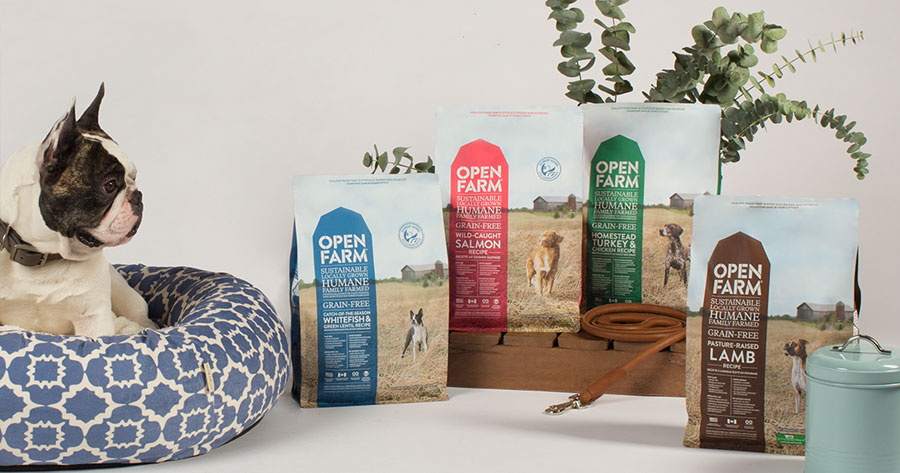 What do you look for in a dog food brand? Learn how Open Farm Pet Food is opening new doors in the pet industry to bring you pet food that you can truly feel good about feeding.
You're a dog lover, a cat lover, and a lover of animals in general, which is why you want to feed your pets the most nutritious, most natural diet. You avoid fillers, preferring high protein dog and cat foods heavy on quality meat ingredients.
Perhaps your attention stops here, but maybe it goes further back to how those animals, which now feed your beloved pet, were treated. After all, they're animals too and deserve to be treated well.
Open Farm Pet Food is the meeting point between your pet's health and the ethics surrounding the treatment of the farm animals that go into their food.
The Open Farm Team
A family business operating out of Toronto, Ontario, Open Farm's focus is your pet's health and happiness while respecting each farm animal that will eventually feed your dog or cat. Through offering quality pet foods and pet treats, the Open Farm team is helping to drive genuine change within the pet food industry, while maintaining a positive impact on the environment.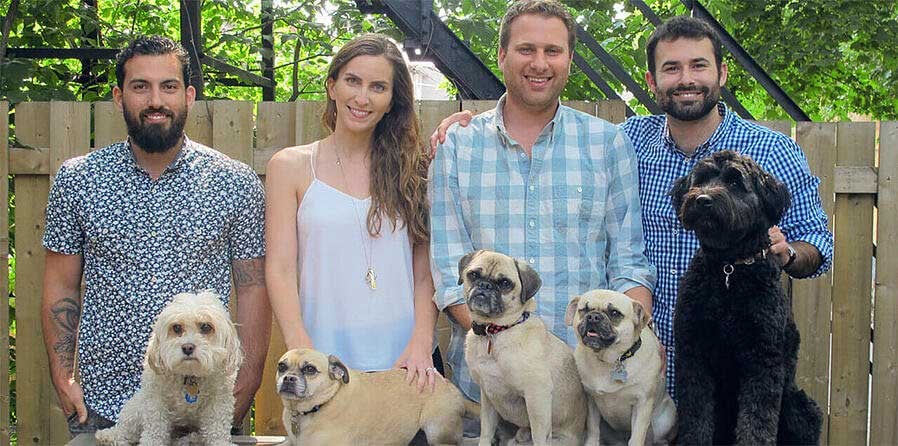 Open Farm Team Members
Isaac & Jacqueline
Derek
Domenic
Five Rescue Dogs (Open Farm's daily motivators)
The Open Farm Difference
The Open Farm commitment to nutritious pet food products makes them stand out amidst a world of "pet fast food", which is focused on profit over your dog or cat's well-being. And they're willing to prove it.
Open Farm's transparency and accountability allow pet owners to see where their pet food comes from, giving them peace of mind that their pet is eating only top-quality, naturally sourced ingredients.
Open Farm is one of the rare companies that practice what they preach, and are willing to stand up and prove it to you. Whether your biggest commitment is to the health of your pet, or the health of our planet, Open Farm's dedication to animals, and their transparency on how they act on that dedication, is a relief.
In a world where everything is billed as healthy and sustainable, the peace of mind that transparency can bring is priceless.
A commitment to animals means a commitment not only to your pet but to farm animals as well. Buying Open Farm Dog Treats, Dog Food, and Cat Food is consistent with that commitment – it's a purchase you can feel comfortable with and proud of.
Open Farm Lives by Four Tenants
Every vision needs some guiding principles, and for Open Farm, that is their four tenants. These tenants help to ensure that they are always providing you with the highest quality products for your pet and staying true to their philosophy of animal welfare.
Here are the four tenants that Open Farm lives by:
1. Healthy Food For Your Pet
Dogs and cats are not suited to a diet rich in corn, or a diet overflowing with processed glutens – pet food companies, however, are more than happy to make these types of foods because cheap ingredients, like corn, make them money. But we know that meat makes pets happy and healthy.
That's why Open Farm Dog Food and Open Farm Cat Food recipes contain a minimum of 30-31% protein, with at least 80% of that protein derived from animal sources.
Open Farm uses:
Humanely raised and ethically-sourced premium animal proteins
Naturally grown, high-quality fresh fruits and veggies
Sustainably sourced omega fatty acids to support skin and coat
A healthy dose of prebiotics to support digestion and immunity
Because open farm pet dog food is focused on making animals happy and healthy– not on all that money that can be made in the "pet fast food market." All their recipes contain only food ingredients that are appropriate and healthful for pets and contain no corn, no wheat, and no soy.
What does this mean? It means that Open Farm foods are easier on your pet's stomach because of their simple and nutritious ingredients.
2. Ethically-Farmed
Open Farm is dedicated to the health of all animals, from the diet of your pet to the diet of the animals on the farms they work with. As a partner of Certified Humane and Global Animal, Open Farm works with farms that have passed inspections by a third-party organization to ensure the farms are humane.
This inspection includes:
The Diet of the Animals – This includes a fully vegetarian diet, with ample food so that animals are not required to compete to eat their fair share.
Hormones and Antibiotics – Open Farm is committed to working with farms that do not feed their animal's growth hormones or antibiotics.
Living Space – Farms don't have to be jails. At Open Farm farms, crates and cages are forbidden, and a proper, clean space to bed down is required, along with room to run.
Stress Reduction – Transportation can cause undue stress on animals. That's why Open Farm farms are required to do everything they can to reduce that stress, including having an Animal Welfare Officer responsible for implementing an animal welfare plan.
3. Sustainable Pet Food
Open Farm's commitment to animals extends beyond pets and farm animals. By focusing on creating a sustainable business model, they help maintain our ecosystem, fostering a better life for animals the world over.
From their ingredients to their packaging, Open Farm takes steps to minimize their environmental footprint. Open Farm partners with Ocean Wise to ensure their fish is sustainable. And they've launched the first pet food bag recycling program in collaboration with TerraCycle, a leader in the industry, to maintain a small carbon footprint.
4. Transparency
Companies promise the world in every ad, but there's always an asterisk or small print giving them enough wiggle room to slither their way back to the bottom. But with Open Farm Cat Food and Dog Food, they're willing to prove their dedication to their ethics by remaining transparent. To do that, they started with the ingredients list on the back of the bag.
Ingredient lists are mandated by the government, but Open Farm has taken the ingredient to a new level.
Each bag of food contains a lot code in addition to their ingredient list. The lot code can be typed into their website, and each ingredient on the list, from the pork to the 'natural flavouring' is expanded on, revealing where each ingredient was sourced from. In addition to this, they've partnered with a variety of third-party organizations that are leaders in their field to ensure their commitments are upheld.
Open Farm Dog Food
Open Farm foods are designed around the idea of rotational feeding too. This means that they encourage pet owners to cycle between their various pet food recipes, keeping your pet interested in all the unique flavours, and ensuring optimal nutrient diversity.
Let's take a look at the huge line of products that you can offer your pet. You may just get jealous of all that variety!
Open Farm Kibble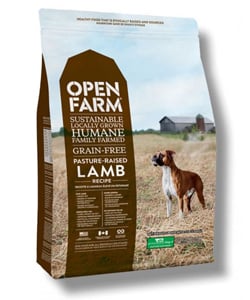 As the most popular food format on the market, high-quality kibble is a highly sought-after diet for dogs and cats. Choose from a variety of flavours, including single protein, multi-protein, and exotic proteins to suit your pet's needs.
The Classic Dry formulas are grain-free, high-protein, and suitable for dog food allergies or those needing dog food for sensitive stomachs. Their newest addition, the Ancient Grains line is perfect for anyone looking to include only healthy and nutritious, low-glycemic carbs to support digestion and overall health.
Open Farm Classic Dry Dog Food Recipes
Homestead Turkey & Chicken

Catch-of-the-Season Whitefish and Green Lentil

Farmer's Table Pork & Root Vegetable

Pasture-Raised Lamb

Wild-Caught Salmon

Grass-Fed Beef

New Zealand Venison

New Puppy and Senior formulas
Open Farm Ancient Grains Dry Dog Food Recipes
Homestead Turkey & Ancient Grains
Harvest Chicken & Ancient Grains
Farmer's Table Pork & Ancient Grains
Cath-of-the-Season Whitefish & Ancient Grains
Pasture-Raised Lamb & Ancient Grains
Grass-Fed Beef & Ancient Grains
Wild-Caught Salmon & Ancient Grains
Ancient Grains High-Protein Puppy Food
Open Farm Raw Dog Food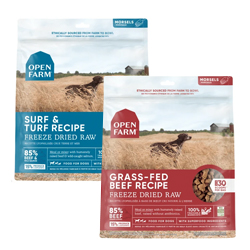 Treat your dog to raw dog food with the ease of traditional dry dog food. These formulas offer additional variety in your pooch's diet because they can be used as a delicious meal topper of their dry diet or rehydrated and fed as a complete meal for anyone who wants to try out the benefits of raw with way less hassle.
Open Farm Freeze-Dried Raw Dog Food Recipes
Grass-Fed Beef

Homestead Turkey

Surf & Turf

Harvest Chicken

Pasture-Raised Lamb

Farmer's Tables Pork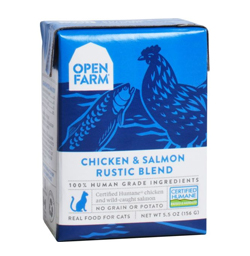 Moisture is an important part of your dog's diet. Including wet foods as part of your dog's meal plan is a great way to boost nutrition and digestion, and best of all, it's a great way to satisfy even the pickiest of pets. Feed as a whole diet, as a topper, or as a side dish to any Open Farm formula to take your dog's dinner to the next level.
Open Farm Rustic Stews
Grass-Fed Beef

Homestead Turkey

Harvest Chicken

Chicken & Salmon

Wild-Caught Salmon

Herring & Mackeral
Open Farm Gently Cooked Meals
Grass-Fed Beef
Surf & Turf
Homestead Turkey
Harvest Chicken
Dog Treats and Extras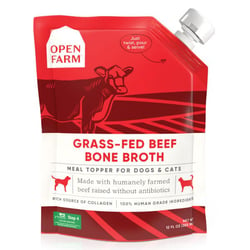 Every good boy deserves a treat, right? The best boys deserve a treat that's made from nutritious, sustainably sourced ingredients. open farm puppy food treats are made from 100% dehydrated, humanely raised meats that have that satisfying crunch that doggo's can't get enough of.
Treats can be part of dinner too! Nutrient-dense bone broth and goat's milk offer additional nutrients to support your dog's digestion, skin & coat, and immune system. Plus they taste great! What more could a pup ask for.
Turkey
Chicken
Beef
Pork
Cod Skins
The Extras
Both Open Farm Bone Broth and Goat's Milk are healthy for dogs and cats, so you can spoil them both with the same amazing food toppers.
Learn more about the benefits of Bone Broth for Dogs or find out why you should consider giving your pet Goat's Milk. Both are a great way to make each meal a little extra special or use them as part of your favourite homemade dog treat recipes.
Open Farm Cat Food
Don't worry, Open Farm didn't forget about your feline friends. You can give your pretty kitty the same nutritious and environmentally conscious diet that your pooch gets with Open Farm Cat Food. Choose from either their tasty kibble formulas or a mouth-watering wet formula.
Wild-Caught Salmon
Pasture-Raised Lamb
Homestead Turkey & Chicken
Catch-of-the-Season Whitefish
Wild-Caught Salmon Rustic Blend
Pasture-Raised Lamb Rustic Blend
Homestead Turkey & Chicken Rustic Blend
Catch-of-the-Season Whitefish Rustic Blend
Chicken & Salmon Rustic Blend
Herring and Mackeral Rustic Blend
Don't know which to choose? Then don't! Cats can be picky, and many love those crunchy kibble morsels, but don't forget that cats thrive on a moisture-rich diet. By offering both wet and dry food, you can keep your cat healthy and happy!
Open Farm Partners
By collaborating with independent, pet food industry-leading partners, Open Farm carries forward its quality process with like-minded companies who care about pets and animals as much as they do.
Open Farm's partners include Humane Farm Animal Care, Ocean Wise, Seafood Watch and Terracycle.

It's this shared commitment to exceptional quality as well as ethical farming practises that are helping to drive this movement forward: A movement dedicated to doing right by you, your pet, the farm animals feeding your pet– and to the environment.
Why Should You Feed Open Farm?
We usually just look at what's in it for our pets, and that's a very important question, but Open Farm is proof that we can have the quality our pets deserve without compromising our principles or our commitment to a better earth.
Open Farm makes it easy to feel good about what you feed your dog. Learn more about Open Farm Pet Foods today, and try any of their great flavours for your beloved dog or cat. If they could thank you, they would.
Are you looking for sustainably sourced and humane dog food that you can feel good about feeding? Let us know what you look for in a dog food brand in the comments below!