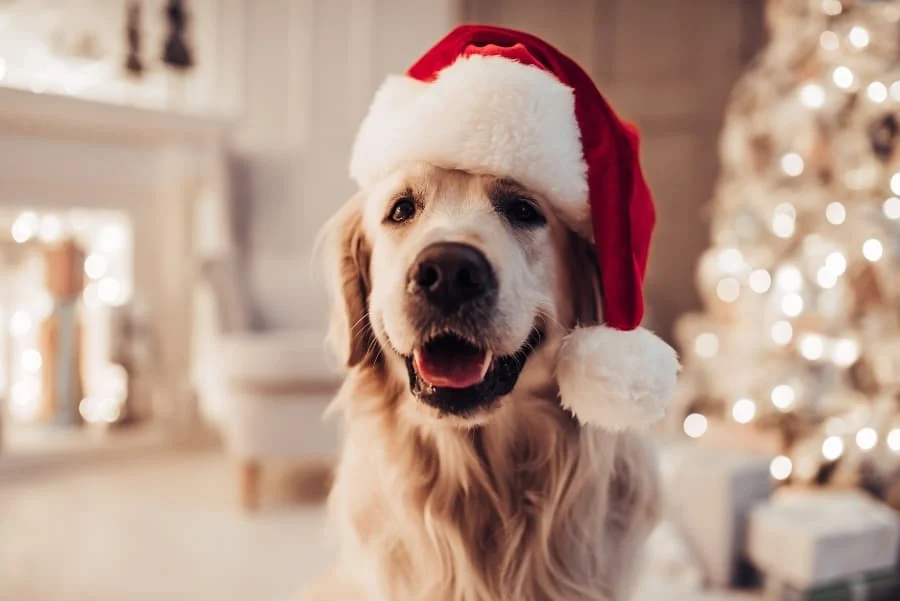 It's finally time to pull out all our favourite holiday decorations, but what about your pooch? Check out our favourite pet Christmas outfits and other festive holiday ideas.
Your dog may not understand all the fuss about holidays, but that doesn't mean that you won't include them anyways. Celebrating the holidays is about being with family, friends, and loved ones, and that includes your dog.
Santa is probably going to leave a present (or seven) under the tree for your pooch, even if he is on the naughty list, but if you are a Christmas fanatic like us, then you are looking for even more ways to help your dog get into the Christmas spirit.
Holiday Dangers for Pets
Before we get into our list of fun and adorable best Christmas outfits for dogs, gear, and decorations, it's important to keep in mind the importance of safety. Holiday pet safety is something that can get forgotten in the hustle, bustle, and excitement of the season.
All the tasty treats and festive decorations are fun, but for a curious pooch, they can be a hazard. Here are a few tips to make sure your pooch stays safe no matter how festive you want them to be:
Keep Decorations out of Reach
Whether you are just hanging ornaments on your Christmas tree or if you create an all-out holiday theme throughout your house, those shiny and beautiful decorations are going to make your dog curious.
Securing decorations and keeping them out of reach for your dog can prevent them from being eaten, chewed on, or broken.
Pet-Safe Holiday Goodies
Special meals and delectable baked goods are often a staple of your Christmas plans, but many of our favourite holiday treats aren't safe to share with your doggo. No matter how sad those puppy dog eyes get, it's important to avoid offering table scraps to your pooch unless you are sure they are safe and healthy for them.
Things like cooked bones from your Christmas ham or sweet snacks like cookies and cakes shouldn't be given to your pup. Instead, make some homemade dog treats or stick to dog-safe veggies or lean cuts of meat to share with them during your celebrations.
The Homes Alive Pets Treat Mold is freezer, microwave and oven-safe, so you can get creative and make some healthy homemade dog cookies or treats this holiday season. Check out some of our favourite Homemade dog food and treat recipes for Christmas.
Some Dogs Hate Clothes
You may be looking for that perfect family photo with your pet, and that means a cute Christmas outfit to make them look merry, but not all dogs are accustomed to clothing or costumes.
If your dog is new to clothing, then it's safest never to leave them unattended in their new gear. They could try to remove it themselves or even try to eat their new dog holiday outfits, thinking it's a toy.
Best Dog Christmas Outfits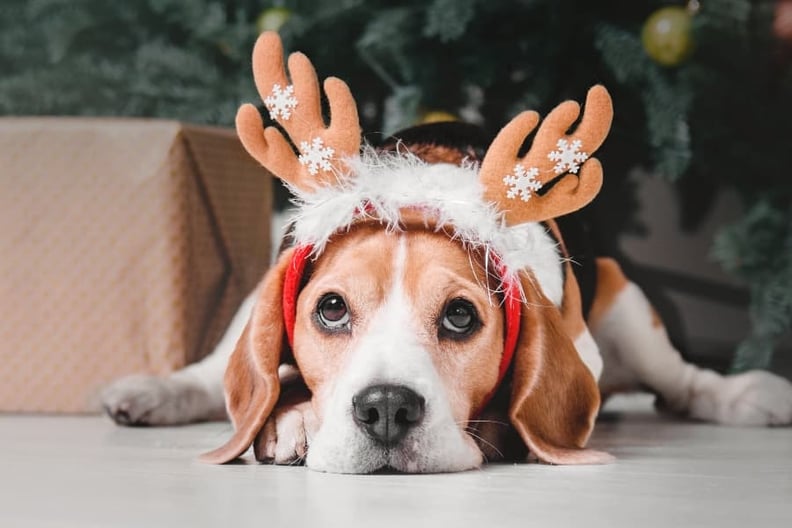 Getting that perfect family Christmas photo can be a challenge, but if you want to bring your next holiday snapshot to the next level, then your dog is going to need an adorable Christmas outfit for the photo shoot.
Dressing up your dog isn't for everyone, and it's likely not your dog's preference, but some holiday gear is just too cute to pass up.
Dog Christmas Costumes
Extravagant costumes may be cute, but they can also be a nuisance for your pooch. The more cumbersome the outfit, the less likely they are to be willing to leave it on. A simple headpiece or a festive collar can be just what you need to make your dog look extra merry. Check out one of our faves:
ZippyPaws Holiday Antler Headband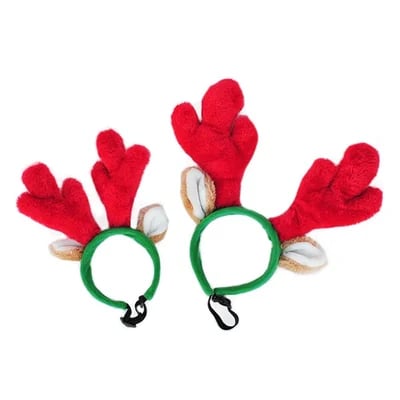 We heard Santa was hiring some new reindeer, so why not see if your dog is qualified for the position? The ZippyPaws Antler Headband comes in two sizes, with adjustable elastic straps for a comfortable and secure fit.
DIY Dog Christmas Costume
Feeling crafty? You can make an easy DIY Dog Christmas outfit to make your dog look dapper at your next holiday get-together. With a cheap festive clip-on tie and an old collared shirt from a consignment store, and a few craft supplies, your dog can easily win best dressed.
Huxley & Kent Snowflake Bowtie for Dogs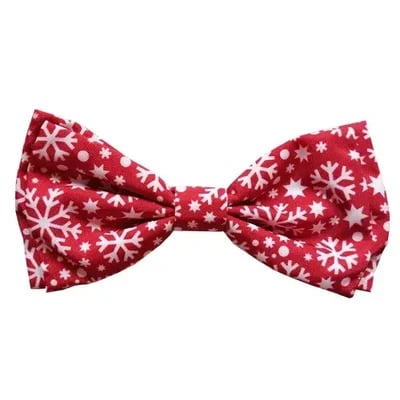 Some dogs hate wearing clothes, but that doesn't mean that they can't don some festive attire. The Huxley & Kent Snowflake Bowtie easily attaches to your dog's collar using a velcro strap. Your dog won't even know it's there.
Best Dog Christmas Sweaters
If there is one "fashion" accessory that everyone loves to pull out around Christmas time, it's the ugly Christmas sweater. This trend isn't just for people anymore. That's right, your dog can have his very own dog ugly Christmas sweater! The trick is that no matter how "ugly" the sweater is, it's gonna look dang cute on your pooch!
Chilly Dog Wool Red Reindeer Shawl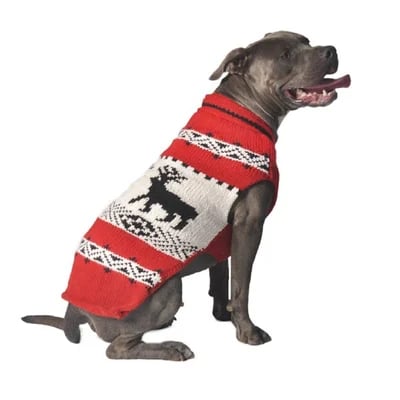 Some dog Christmas sweaters are both cute and functional. The Chilly Dog Wool Red Reindeer Shawl is made from soft and warm wool, handmade in South America and uses organic wool and plant-based dyes. All Chilly Dog sweaters follow fair trade guidelines, so this is one doggy sweater you can feel good about, even if your dog doesn't.
Check out more dog sweaters to keep your pooch warm on a cool winter day.
Huxley & Kent Buffalo Check Hat and Scarf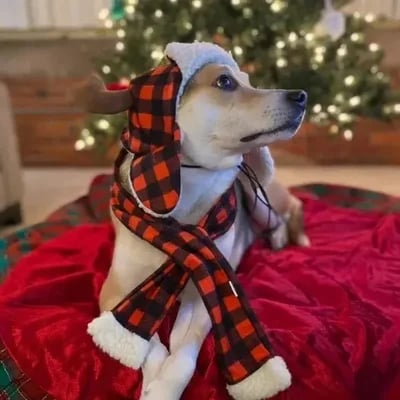 Don't let cold weather hamper your dog's festive spirit. The Huxley & Kent Buffalo Check Hat will give your dog that perfect holiday look and keep them warm at the same time. This doggy trapper hat will help to keep your dog's sensitive ears warm on a cold winter walk. Combine it with the Huxley & Kent Buffalo Check Scarf for the complete look.
Festive attire is just one way to include your pooch in your favourite holiday traditions. Stock up on the top dog treats, dog toys, and dog accessories this Christmas.
Check out Christmas Gifts for Dogs 2022 for some of the best-selling doggy stocking stuffers and gift ideas.
Cutest Dog Christmas Pajamas
Another common holiday outfit for people is Christmas pajamas. It's too bad dogs can't wear pj's too. Oh, wait, yes, they can! Check out our favourite Dog Pajamas:
Canada Pooch Frosty Fleece Onesies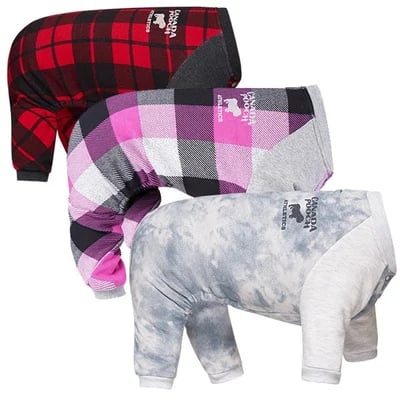 Nothing says Christmas morning like opening presents in a warm, soft, and comfortable set of onesie pajamas, like the Canada Pooch Frosty Fleece Onesies. They are a great way to keep your pooch nice and toasty on a cold winter's night, too! Shop our full dog pajamas selection.
Fun Dog Christmas Decorations
Everyone has their own style when it comes to Christmas decorations, but everyone in your house should be represented. This includes your furry family too. Here are a few ideas to include your pooch in your holiday decor:
DIY Dog Ornaments
Homemade ornaments are a fun and cute craft for kids, so why not let your dog partake too? Not only will you get a memorable ornament for your tree, but it's also a fun bonding experience for you and your pet.
This simple recipe of salt, flour, and water can be used to make an impression of your dog's paw that you can bake and paint. Check out this simple Salt Dough Paw Print Christmas Ornament for full instructions to make your own personalized dog ornaments.
Remember that even though these ornaments are made from human food ingredients, they are not safe for your dog to consume. Keep these homemade ornaments out of reach from your pup.
Dog Christmas Stocking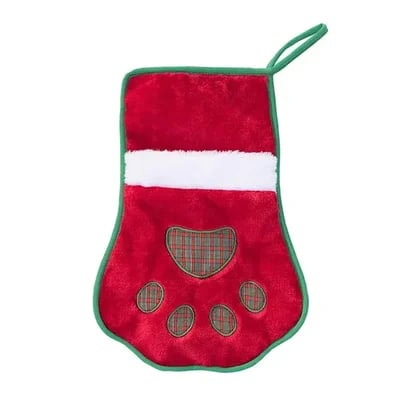 Holiday stockings are a common Christmas decoration, not to mention a place for Santa to leave goodies, so don't forget to put one out for your pooch as well. The Zippy Paws Holiday Dog Stocking is the perfect place for you, er… Santa, to deliver some special dog treats and dog toys. Stockings are perfect for smaller gifts, like Bosco & Roxy's Gourmet Snowman Cookies or Kong Holiday SqueakAir Balls.
Dog Christmas Photoshoot Ideas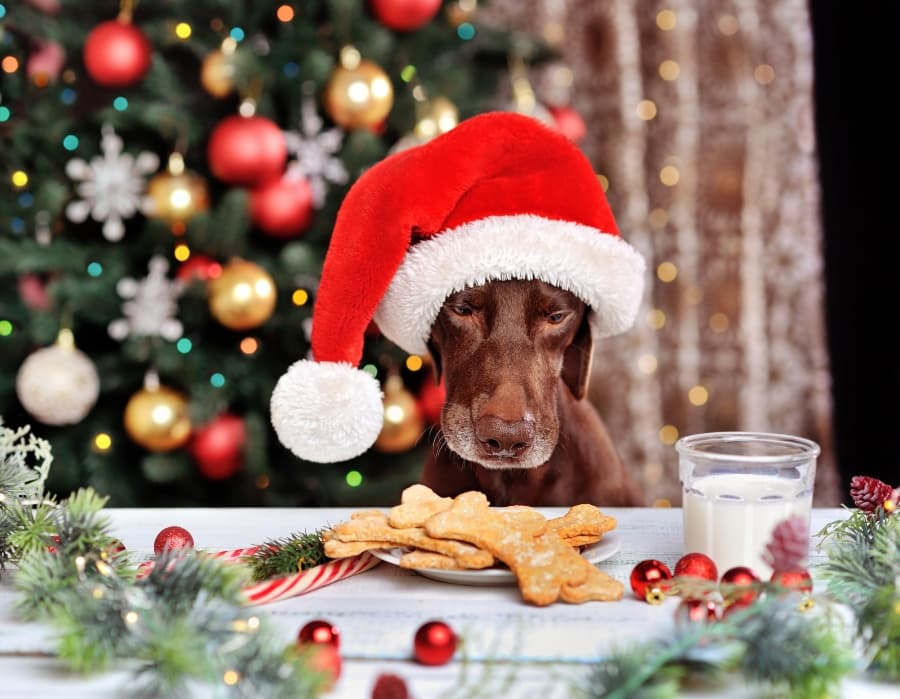 Looking for that perfect pic for the Christmas card? Pet photography isn't always the most intuitive practice, but the holidays tend to provide plenty of inspiration for amateur pet photographers. And by that, we mean any pet parent with a smartphone.
5 Simple Pet Photography Tips
You probably have a phone gallery filled with pet pics, but if you find it difficult to get your pooch to sit still for a photo, or if you always seem to miss the opportunity to snap a photo of that weird or cute thing they do, then the idea of getting a good holiday picture might seem daunting.
To help you capture your family's precious moments, we put together a few pet photography tips:
1. Focus on the Eyes
Whether you believe their eyes are the windows to their soul or just the focal point of their noggin, focusing on their eyes can help you catch better angles and get cuter expressions.
2. Get on Their Level
We often take pictures of our pets at a downward angle, mostly because they are so short, but the best pet pics are taken when you get down on their level. Lay prone on your belly on the floor or kneel so that you can hold your camera straight in front of them.
3. Natural Light is Best, but Christmas Light is the Perfect Accent
In most cases, natural light will give your photos a very natural feel and warmth, which is why daytime shots are typically easier, but the shorter days of winter can make that difficult. Fortunately, the glow and glitter of Christmas lights and decorations provide unique and complementary lighting to your dog's Christmas photoshoots.
4. Use Burst Shots
Getting pets to sit still, look at the camera, or pose in any way can be challenging. That's why we recommend taking burst shots to get as many pics in each position as you can. Some pets defy shutter speed, so the more shots you have, the more likely you are to catch that perfect split-second pose.
5. Don't Be Afraid to Use Props
Using Christmas-themed props is a great way to add that extra-special holiday touch to your pet photos. Outfits and costumes are fun, but you can even use your Christmas decorations to make your pet look festive. Christmas lights, stick-on bows, and even wrapping paper can be used to make your pet look like he belongs under the tree on Christmas morning.
Just make sure that you never leave your dog unattended with your Christmas decoration. They may look like a tempting chew toy to a curious and playful pooch. For a safer alternative, stick to holiday-themed dog toys to give your photo a merrier theme.
5 Fun and Festive Photoshoot Ideas for Your Pet.
Themed photos are a great way to help you get that right pose, right angle, and perfect lighting. Plus, they are fun to set up and even more fun to share with your friends and followers. Here are a few super cute Christmas photoshoot ideas for your pets.
1. Matching Outfits Family Portrait
What's a family Christmas photo without your furry family? A great way to get the perfect family photo is to get your family matching outfit, like ugly Christmas sweaters or a set of onsie pajamas, and include one for your dog.
2. Funny Dog Photos with Santa
We already treat our pets like our kids, so how about a doggy twist on an ultimate Christmas tradition - Dog Photos with Santa?
While not every dog loves this activity, it can lead to some very cute and, sometimes, very hilarious pictures! Here are a few of the best funny dog photos with Santa:
Please don't ask if I've been naughty this year!!!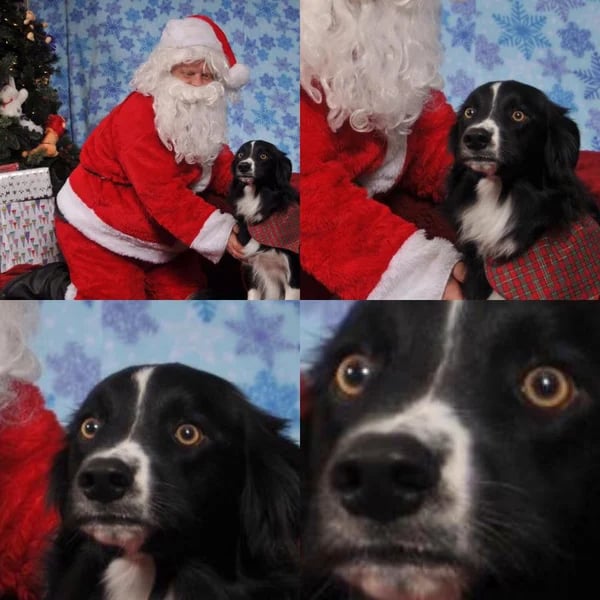 Photo Credit: Reddit
Am I doing this right?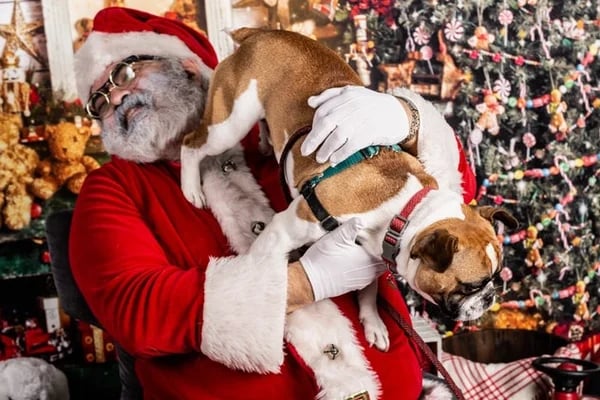 3. Mistletoe Set-Up
Who doesn't love a puppy kiss any time of year? They are especially picture-worthy when that kiss happens under a festive mistletoe. Just hang your mistletoe just above your pup's head and lean in for a smoochy selfie.
4. Stealing Santa's Milk and Cookies
We all love a good guilty dog photo, but what about a staged Christmas-themed one? Set out a few dog treats and a small dish of The Honest Kitchen Goat's Milk with a label marked "For Santa." Then just take a few candid snaps of your dog "looting" Kris Kringle's goodies.
5. Winter Wonderland Shots
While we don't always look forward to winter, the fresh dusting of pristine white snow and the right festive attire can make for the perfect puppy photo shoot. You can get some great action shots or just get a beautiful background and plenty of natural lighting.
Frequently Asked Questions (FAQs)
What are some popular dog Christmas outfits for the holiday season?
Some popular dog Christmas outfits include Santa Claus costumes, reindeer antler headbands, elf costumes, and festive sweaters with holiday-themed designs.
How can I ensure my dog's comfort while wearing a holiday outfit?
Choose outfits made from soft, breathable materials to ensure your dog's comfort. Avoid anything that might restrict their movement or cause discomfort.
Are there any safety tips to keep in mind when dressing up my dog for the holidays?
Make sure the outfit doesn't have small, chewable parts that your dog could swallow. Ensure that the outfit doesn't obstruct your dog's vision or breathing. Always supervise your dog while they're wearing a costume.
What are some festive holiday tips for dog owners?
Some festive holiday tips for dog owners include keeping harmful decorations and toxic foods out of reach, providing a quiet space for your dog to retreat to if they become overwhelmed, and maintaining your dog's regular routine as much as possible.
Can I include my dog in holiday celebrations, and how?
Yes, you can include your dog in holiday celebrations by giving them dog-safe treats, providing them with their own holiday-themed toys, and allowing them to be part of family gatherings while ensuring their comfort and safety.
Are there any special precautions for walking my dog during the winter holiday season?
Be cautious of icy sidewalks and cold temperatures when walking your dog during the winter holidays. If needed, dress your dog in a warm, insulated coat and wipe their paws to remove ice melt or salt.
We want to see your adorable holiday pet photos! Tag us @homesalivepets for a chance to be featured!