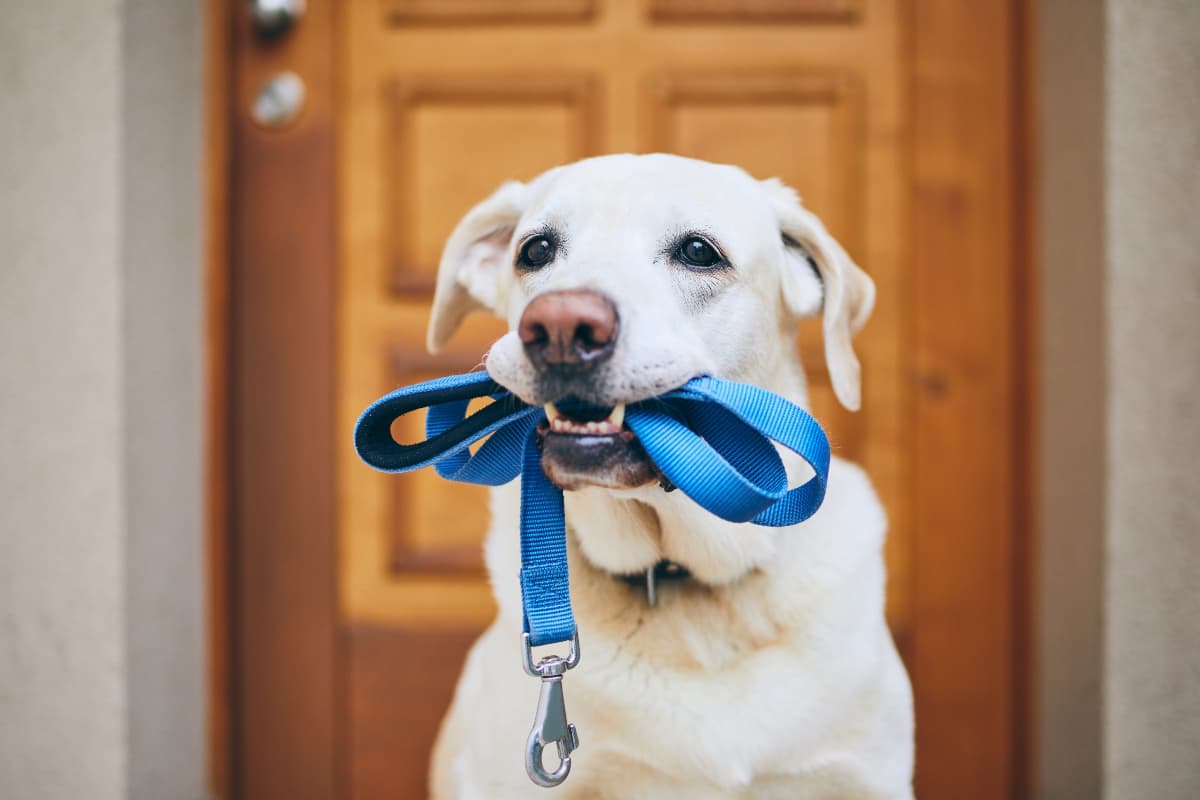 Dog leashes are a staple accessory for any dog family, but what's the right one for your dog? Check out our ultimate buying guide for the best dog leashes in Canada.
Taking your dog for a walk is a great bonding experience and provides fantastic exercise. However, as a responsible dog owner, you need to ensure your pooch remains safe during the outing. The best way to control your dog, so your pup does not run off and continues to behave well is to use a leash.
After your dog's collar, a dog leash is an invaluable training tool and a 'must-have' in your dog supply arsenal. The best dog leash depends on its intended use. When shopping for a leash, the first thing you'll notice is the wide assortment of choices.
Once you've chosen the best dog collar and the right dog harness, your dog's leash is the next necessity for walking your dog. Best dog leashes come in a variety of lengths, materials, and designs. Most pet owners own more than one to better fit a variety of purposes.
In this complete guide to best dog leashes, we will explore everything you need to know before purchasing a leash.
Why Do You Need a Dog Leash?
If your pet is well-trained, you might wonder why you even need a dog leash. In many locations, leash laws exist, and owners who fail to follow the legal requirement face steep fines.
Even the best-trained canine might have a slip-up. What if Fido sees a squirrel and takes off after the rodent? Without a leash, the dog could easily run away or end up accidentally crossing a busy thoroughfare where the animal could get hit by a car.
Additionally, just because your dog is well trained doesn't mean that every animal or person they meet will be as well-mannered or comfortable interacting with an off-leash dog.
Here are a few benefits of a dog leash:
Necessity during training sessions to provide control.
Provides control over the dog
Stops your pet from running off.
Saves your dog from potential life-threatening accidents.
Provides behavioural management.
Keeps your dog from jumping up on other people who get too close.
Reasons to Leash Train Your Dog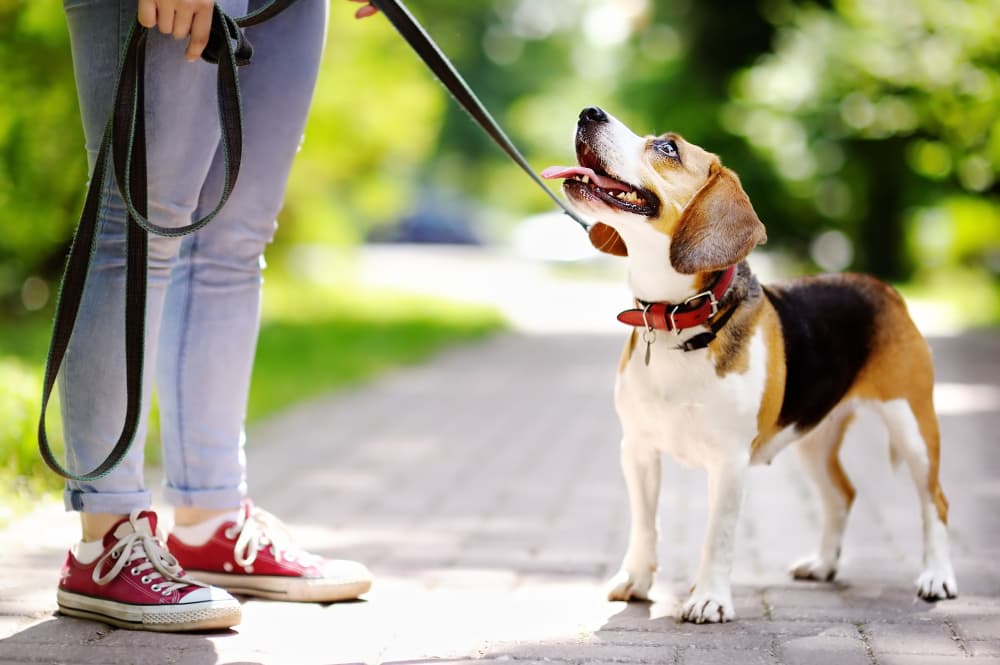 Below are a few reasons why you should consider leash training your dog. If you are unsure about your ability to effectively leash train your pup, then why not enroll in a doggy obedience class,
A leash is a good community policy that shows respect for your neighbours by not allowing your dog to trespass on their property.

Improved companionship.

Helps prevent the spread of diseases such as Parvo or Distemper because you can prevent the canine from sniffing excrement from other dogs or wildlife, easily passing on viruses and parasites.

Helps protect your pet from possible dangers like other dogs or

traffic handles

.

Excellent identification tool because you can hang all of your ownership information, such as address and phone number, from the dog's leash or collar. You can also emblazon some leashes with crucial information such as your phone number.



Types of Dog Leashes
When shopping for dog leashes, the first thing you'll notice is the huge array of choices. You might feel overwhelmed by the many types of dog leashes. You'll find leashes with unique styles, patterns, colours, sizes, lengths, widths, and materials.
Standard Dog Leashes
A functional standard leash works well for everyday use. It typically has a metal clip on one end where you attach the dog's collar and a loop at the other end to work as a handhold. You'll find standard leashes in varying sizes, with 4 feet and 6 feet being the most common lengths. Standard leashes are heavier and usually fashioned from pet-safe nylon, chain, or leather.
A 6-foot dog leash works well for an average-sized dog and is considered by most dog trainers as the best dog leash length for dog training.
Retractable Dog Leashes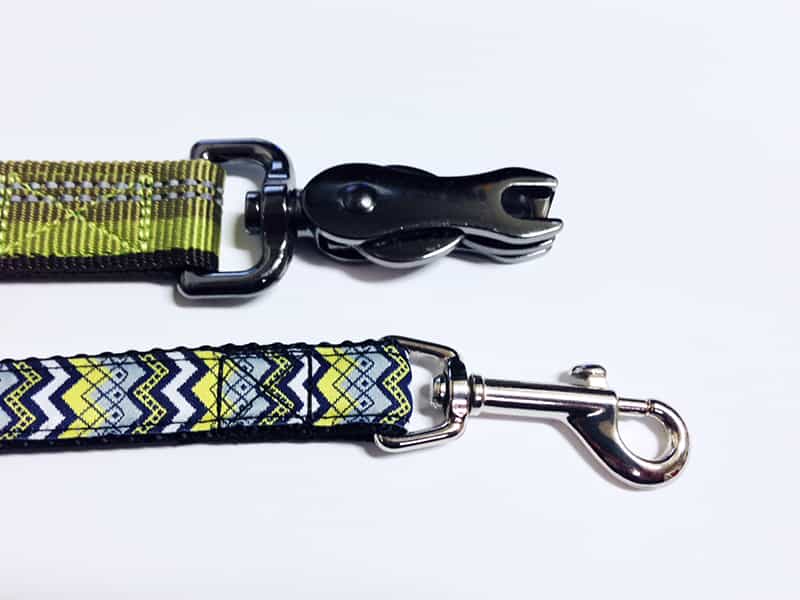 The best retractable dog leash features a leather band that usually extends up to 26 feet long depending on the design. The leash hand usually has a locking mechanism that you can use to lock the leash to the desired length. Your dog can easily wander a great distance away while still remaining under your control. As the dog returns towards you, the leash starts to retract back into the device, so you don't have to worry about reeling the excessive leash back in.
The best retractable tape dog leash not only retracts but also adjusts, so you never have to worry about Fido wrapping the leash accidentally around your waist or legs. Ideally, it would be best if you only used a retractable leash on a dog that knows basic obedience.
The Grey Flexi Comfort Retractable Tape Leash boasts a soft grip that adjusts as needed for larger sizes. The surface also has an anti-slip grip. The retractable tape has a chrome hook. You can easily lock the top in place to provide greater control over the doggo when needed. You can pick from four sizes when you opt to go with this retractable leash.
Adjustable Dog Leashes
With an adjustable leash, you control the length of the leash. You can increase or decrease the leash length as needed. The leash has several loops that let you easily make any necessary adjustments.
An adjustable leash has many similarities with a standard leash but features the added bonus of adjustability.
If you're looking for the best hands-free dog leash for running, the adjustable leash might work perfectly. You can wrap the waist leash around your waist to free up your hands.
When picking an adjustable dog leash, you'll find a wide assortment of materials so you can choose one that fits your particular taste. When picking a leash, always consider durability.
Slip Leads
The slip lead acts as a combo leash and collar. You can easily put it on your pet and take it off. When using a slip lead, always think about placement. Slip dog lead, like the K9 Explorer Dog Leash Rope burns, functions best when placed high on a dog's neck. Position the collar portion of the leash on the neck directly behind the ears.
When positioned properly, the dog will not choke. The slip leash is easy to use. The collar/leash combo is ideal for a pet owner seeking an affordable leash comes to option.
Specialty Dog Leashes
Some leashes are designed for very specific uses and activities. Standard leashes might be fine for your daily neighbourhood walks, but some of your favourite outdoor activities with your pooch might require a different kind of dog leash comes.
Travelling, biking, and hiking with your pooch require different gear to keep your dog rescue and make your adventures more comfortable. Here are a few specialty leashes that might come in handy:
Car Safety Dog Leash
Like the Kurgo Direct to Seat Belt Tether, a seat belt safety leash has been specifically designed to keep your dog safe in an auto. The short leash has a clip on one end that attaches to the dog's collar. Secure the other end and click right into the seat belt of your car.
For your dog's complete car safety precaution, check out the Kurgo Enhanced Strength Tru-Fit Car Dog Harness. It comes with a comfortable harness and a specially designed seat belt safety leash. The crash-tested design relies on the same technology for making linesman safety equipment and rock-climbing gear. There are multiple adjustment points to tailor the harness and leash to fit your dog comfortably.
Check out The Best Dog Harness for Your Dog to find the right style and function for your dog's favourite outdoor activities.
Hands-Free Dog Leash
If you are an active person, you probably love to bring your pooch along on your outdoor adventures. Running and hiking are much easier when you have both hands free, so why not try a hands-free dog leash?
Where a comfortable belt and attach your dog's (or dogs') leashes to keep your dog safely attached to you while leaving your hands free. The Ruffwear Hitch Hiker Leash is one of your top picks. It even comes with a water bottle and holder to help keep you and your dog hydrated.
Bike Leash for Dogs
For the active owner who enjoys biking with their beloved four-legged company, a bike leash attaches to the bicycle's frame and holds the dog at a safe distance from the bike. With proper training, many dogs enjoy running alongside the bike.
The Sherpa Cycleash Universal Bicycle Leash attaches easily to the bike via an ergonomic leash bar that holds the dog's leash safely away from the bike. The bicycle leash has been fashioned from lightweight aluminum alloy, and the leash is formed from TPR with a strong bungee cord interior. It will effectively hold a 35lb dog. You can un-attach the leash from the bike and hold it within your hand to walk your dog when not riding. This is the ultimate hands-free bungee dog leash for riding.
Dog Coupler Leash
If you have multiple dogs, holding two leashes can literally leave you all tied up. Like the Kurgo Wander Double Dog Leash Extender, a coupler dog leash lets you walk two dogs using a single leash. It features one handle and then branches out in a Y formation so you can easily attach each dog to the leash.
This style will keep both dogs close enough to walk together but far enough apart that they aren't tripping over each other or you over them.
Multi-purpose Dog Leashes
If you are unsure what type of bungee dog leash you want to purchase, check out the Kurgo Quantum 6-in-1 Dog Leash. The versatile leash has six unique configurations. You can easily adjust the leash to meet a multitude of purposes. In addition, the leash boasts a rugged marine-grade double-woven design.
The 6-in-1 choices include:
Standard 6-foot walking leash
3-foot training lead
A coupler for watching two dogs at once
Belt style, which makes it one of the best hands-free dog leash choices
Secure tether
Courier-style hands-free leash
Each configuration is easy to achieve. You simply adjust the carabiner placement to adjust the length and then reposition the velcro tabs that form the leash handle.
What's Your Dog's Leash Made Of?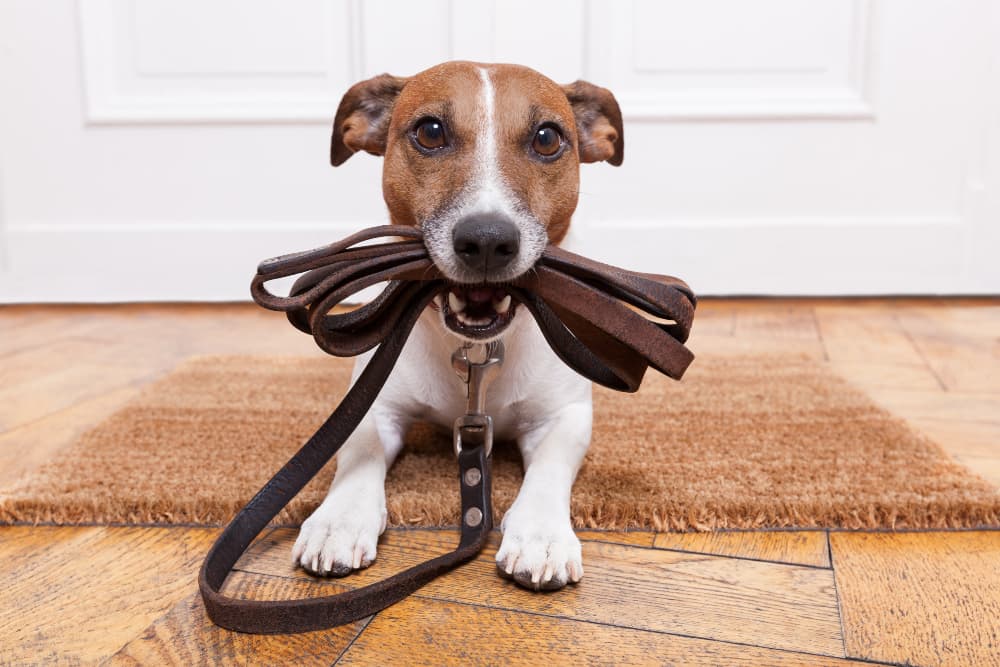 The construction of a dog leash matters for durability and functionality. Each type of material and design has its own unique pros and cons, which you'll need to consider before deciding.
Nylon Dog Leashes
In recent years, the nylon dog leash has risen in popularity as one of the most common types of leash material. The affordable material provides acceptable durability for a reasonable price. You can find nylon dog leashes in many sizes and patterns to give your dog a little flare as he struts around the neighbourhood. Imagine your cute pooch rocking the RC Pet Watermelon Dog Leash.
Pros:
Easy to clean and washable
Dries quickly
Does not shrink
Available in a wide range of colours and patterns
Cons:
Hard on hands and can easily burn the skin if the dog suddenly pulls

One of the easiest leashes for a curious puppy to chew through
Leather Dog Leashes
A true classic, a leather leash is stylish and functional. Leather is known for its durability, even for strong breeds that pull. Unlike fabric leashes, leather is less likely to tear from use. Leather is also a fashionable option. Leashes like the Angel Alpine Midnight Black Dog Leash are soft leather leashes for dogs and pet parents who want to add a little flair to their style.
Pros:
Long-lasting and durable material

Leather softens over time while remaining functional

Provides a firm, solid grip surface
Cons:
Can be more expensive

Can get water damaged

Leather can crack if bent or folded too tightly
Chain Dog Leashes
Chain dog leashes remain one of the least common dog leash materials. This is partial because of the limited selection and heavier weight, but the main concern with chain leashes is that they tend to make a dog look aggressive when they aren't.
A popular reason for opting for a chain leash is to prevent a teething puppy from chewing on the leash, but the hard chain could end up doing a lot of tooth damage. Teething your dog not to chew is better than giving them an unchewable leash.
Pros:
Heavy-duty

nylon

and strong for large breeds

Stands up to a dog's chewing
Cons:
Heavy, not a

great one

for small or skinny-necked breeds

Hard on the hands

Can damage teeth if puppies decide to chew
Polypropylene Dog Leashes
Polypropylene is a great choice if you want something weather-resistant and odour-resistant. It's lightweight and flexible, making it ideal for everyday use. The Woof Concept Aqua Collection Dog Leashes offer a variety of colours and have a unique side release buckle to prevent accidental release.
Pros:
Waterproof and odour-Resistant
Flexible and soft material
Lightweight but still durable
Cons:
Less pattern and style variety
Can be pricier
Different materials are best for different activities. Nylon dog is a great everyday material, while polypropylene is better for dogs that love to swim or if you live in an area with lots of rain. If a style is what you are looking for, a leather dog leash might be the classiest look for your pooch. Check out all of your options and choose the ones that best suit your dog's regular activities.
What are the Best Dog Leash Features?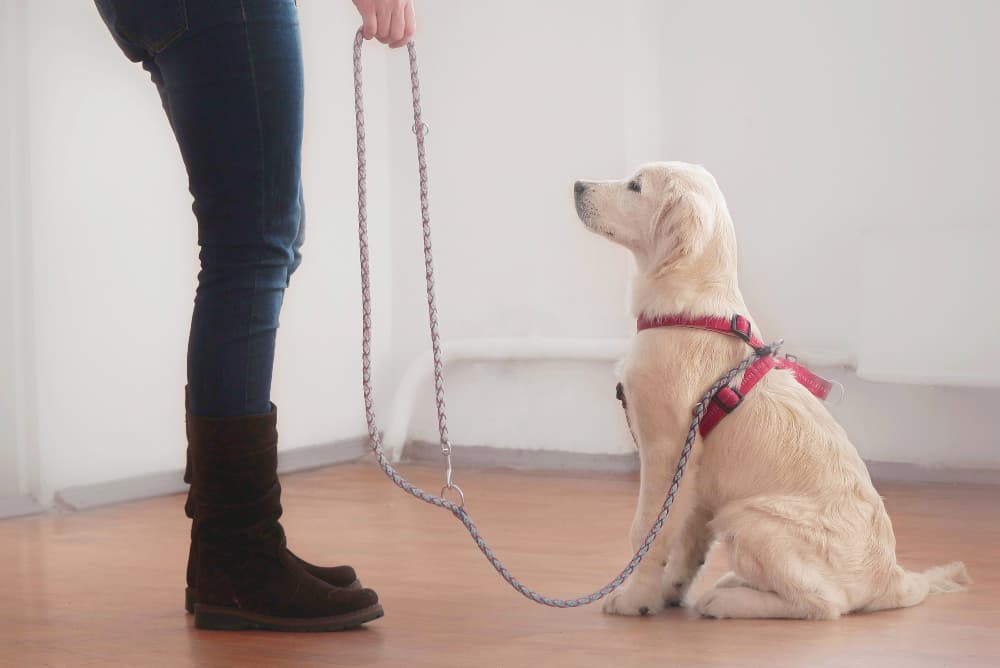 When shopping for dog leashes, one area that people overlook is features like the leash clip and handle. There are many distinct kinds of leash features, so make sure you consider what the unique features of your dog's leash do for you.
Here are different types of leash clips and features to choose from:
Trigger Snap Clip
The trigger snap clip can withstand a lot of pressure due to the spring-loaded lever. You push the lever inwards to open the clip and connect it to the dog's collar ring. The clips are bigger and favoured for a large dog or a canine who likes to pull.
Bolt Snap Clip
The bolt snap clips, like in the are the most common clip form on a dog leash. It functions via a small internal spring located in the shaft, which slides a bolt open so that you can connect to the collar ring. When you release the spring, the bolt moves into place.
Bolt snaps clips provide reliability, but they can weaken over time, and the spring may fail. The clip is favoured by smaller dog parents who do not actively pull on the leash. Always double-check the bolt clip to make sure it still functions correctly.
Carabiner Locking Clasp
A carabiner with a lock has a bulky design but creates optimum security. You can use it to easily tether your dog, and rest assured that the canine cannot open the clip and get loose. Once secure, it locks in place effectively.
The Ruffwear Knot-a-Leash was designed like mountain climbing gear with a carabiner clip. The leash was fashioned from kernmantle rope leashes and has built-in reflective material with a tubular webbing handle for optimum comfort and grip. Choose from a small or large size.
The leash is available in six colours and matches Ruffwear Knot-a-Collar.
Easy Attachments
A pretty common feature of standard leashes is an extra clip loop near the leash's handle. This allows you to attach useful accessories like a dog poop bag holder, a dog treat pouch, or even an LED light for increased visibility at night.
Padded Handle
The function of the leash should work for you too. A soft comfortable padded handle will provide more comfort for you so that even if your dog has some bad pulling habits, you won't end up with a case of rope leash burn from your leash. Check out the Kurgo Ascender 5-in-1 Dog Leash for maximum comfort.
Reflective Dog Leashes
A reflective leash, like the Rogz Reflective Dog Leash, lets you safely walk your dog at night or in low light. The reflective material is often woven through leather or nylon dog leash. Reflective stitching is quite common on nylon leashes, but thick reflective strips all the way up the lead make it easy for you and your dog to be seen at night.
Traffic Control Handles
When teaching your dog good walking behaviours, a traffic control handle can be a great way to teach your dog how to act when you come to an intersection or cross paths with another pet or person. The Ruffwear Flat Out Dog Leash has an easy grab handle to give you quick control of your dog when you need them to stop suddenly.
What's the Best Leash for Dogs That Pull?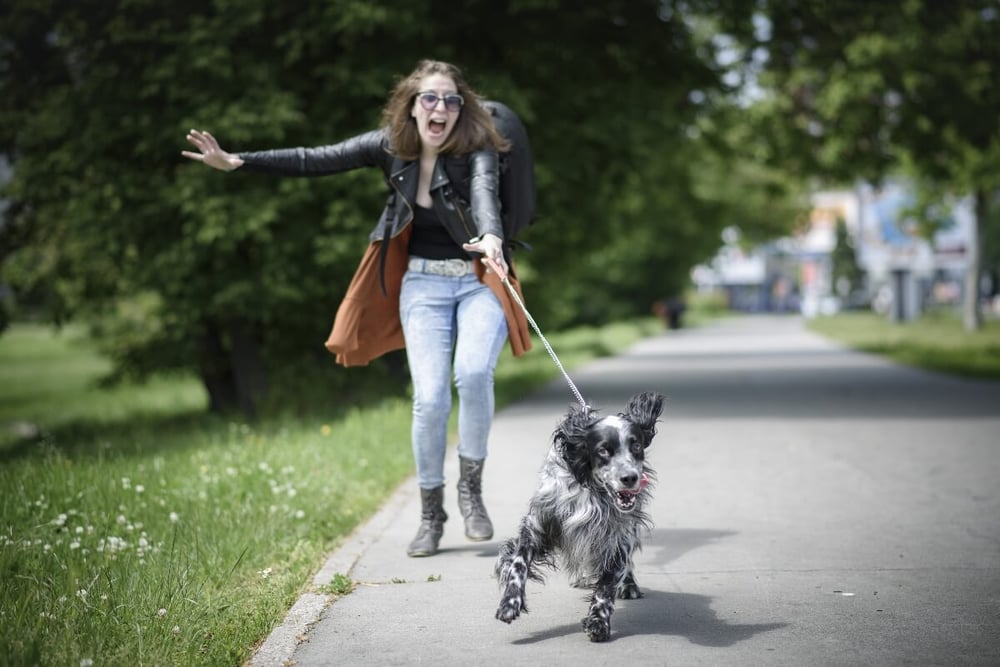 Is your dog a puller? If so, finding a reliable leash is necessary to safely walk your dog. You'll want a strong leash made of durable material to meet the relentless stretching caused by the ongoing pulling.
Dogs pull on a leash for a variety of reasons, such as:
A dog's gait is usually faster than a human so the pup might become anxious and wants to speed you along by pulling.
Young dogs are filled with excitement at the thought of getting outdoors. They want to sniff exciting things, see new people and explore the world around them, so they pull in their exuberance.
The best solution for a dog pulling on a leash is to have the right tools to teach your dog vocal cues and good walking manners. However, consider a dog harness and leash system if you want to keep fido close to your side so he can learn to dog walk with you, not ahead of you.
The Ruffwear Roamer Dog Leash has been fashioned from polypropylene webbing for optimum control and to help absorb sudden pulling. You can lock the leash using the aluminum Swivel Crux Slip affixed to the bottom of the leash. The lightweight leash design lets you carry the leash in your pocket and only use it when necessary.
When researching what's the best training leash for a dog who pulls or the best dog leash for hiking, this one always comes out as a leader.
Tips to Train Your Dog Not to Pull
Remember, a leash does not teach your dog not to pull. It is not a magic device but rather a tool that you can use to help you instruct your dog on proper leash-walking behaviour.
Here are a few tips on how to train your dog not to pull:
After finding the perfect leash, you can teach your dog not to pull.
Most dogs who pull on a leash become excited before you ever clip on the leash, so try to calm your dog and wait until you have the animal's full attention before clipping on the leash.
Go for a short walk
Offer a great deal of positive reinforcement when your dog behaves well and does not pull. You can try giving the pooch a treat with ample praise when they walk beside you.
Always hold the leash short, so you have complete control of your dog even if he decides to pull.
Go for a walk every day and focus on obedience training.
Learn more tips for stopping your dog from pulling and teach better walking manners in How to stop Dog Pulling on Leash.
Best Leash for Aggressive Dog
Most aggressive dogs are strong, so you want a leash that provides you with a good grip, such as a leather leash.
The Rogz Long Rope Dog Leash is made from durable nylon leash rope burn and features a metal swivel clasp to make it easier for you to control your big strong pooch. The reflective stitching makes this leash ideal for walking your pooch in low light so that they can be easily spotted by cars and people. The round-handled grip sits comfortably in your hand, even if your dog pulls.
How to Use a Dog Leash
You might think you have a good idea of how to use a dog leash, but the improper use of the device can actually cause serious problems. A dog's neck is one of the most sensitive parts of the animal's body. Pulling too hard or too long on the area can easily cause nerve damage. Learning how to effectively use a dog leash is a key component of responsible dog ownership.
Here are a few basic instructions on how to use a dog leash properly:
Attach the leash to the dog's collar or harness.
Avoid wrapping the leash around your wrist. Instead, place your hand through the handle and grasp the base of the handle, palm down. This will give you a good grip, and you can use the back of your hand to stabilize the leash if your dog pulls.
For tough pullers, hold and control the leash with both hands. Use your right hand to grasp the dog's leash far enough down that your dog has just enough room to walk beside you, and use your left hand to hold the leash's handle.
Do not yank on or pull back on the leash sharply, as this could injure your dog.
Grab the leash closer down to your

small dogs

when you come to roads or intersections to teach your dog to sit and wait for directions to cross the road.
Choosing the Right Dog Leash
Before you buy a small dog's leash, think about the particular purpose. Do you want a training leash? Are you looking for the best dog leash for small dogs? Do you need a leash to stop pulling?
Most dog owners eventually end up owning multiple leashes to fit unique needs, such as a leash for everyday use, a retractable leash, a training leash, or a seat belt leash.
Always avoid leashes made of cotton, which can easily shrink. You should also not buy a rubber leash that will stretch and eventually break in most cases. Cheap, novelty leashes are often made of cheaper and less durable materials that could have an unhappy ending if the leash wears and snaps while you are out and about.
Have a spare leash available if something happens to your primary leash, such as it becomes damaged or lost.
Things to Consider When Buying the Best Dog Leashes
If you have been shopping for a dog leash, you are probably well aware of many choices. You might feel overwhelmed, not knowing which one will be the best for your dog.
Here are a few things to consider before you hit the buy button and have your new leash delivered:
What are the laws in your area? Many communities and cities in Canada have local ordinances that outline leash requirements. Always take the time to look up your particular area's rules. Many also outline the necessary leash lengths, so you'll want to factor in all of your area's leash requirements before deciding.
Is your dog big? If your dog is big, you'll need a heavier leash that can stand up to the canine's strength. Consider the

long leash

material, thickness, and clip quality before purchasing. Your dog can pull you more easily if you have a long leash. Try to pick a shorter leash fashioned from durable leather, which provides a good grip.
Length Size and Freedom: If your dog is well-behaved or small in stature, you might want to consider a retractable leash to give your pet more freedom to explore on your outings. However, if your dog is big, strong, or aggressive, then you'll want a heavy-duty shorter leash that gives you greater control.
Leash Feel: Think about what feels good in your hands. Some people enjoy the soft feel of leather, and others do not mind lightweight

nylon leashes

. Many leashes also have

neoprene padding

for optimum gripping comfort.
Whether for everyday use or taking your dog out on fun adventures, a dog leash is not a luxury but a must-have tool for any responsible dog owner. The right leash can enable both you and your pet to get the most out of your outings.
Don't limit yourself to just one leash. If your normal routine with your dog is simple, then a standard leash may be all your need. If you love to take your dog on all your favourite adventures, then you might need two or more different styles of dog leashes to keep your dog safe.