Finding a dog chew that your dog won't demolish in minutes can be tough. Avid chewers can fly through even large chews in no time. These three chews are the top of the toughest, longest-lasting dog treats category.
1. Rawhide Chews
Probably the most commonly bought dog chews are rawhide chews. Rawhides come in many different sizes, shapes, and styles from thick to thin, pressed to knotted, or even flavoured.
Rawhide chews are relatively mess free and usually the least expensive type of chew. Can you tell why they're popular? Pressed rawhides do not come apart as easily as other types, making them the longest lasting type of rawhide.
Despite their popularity, rawhides have some downsides. Although rawhides are all natural, they don't break down in the stomach very quickly.
Poor digestion of rawhide chews can lead to upset stomach, diarrhea, and even blockages (if large chunks are swallowed whole). Always supervise your dog with a rawhide chew.
2. Bully Sticks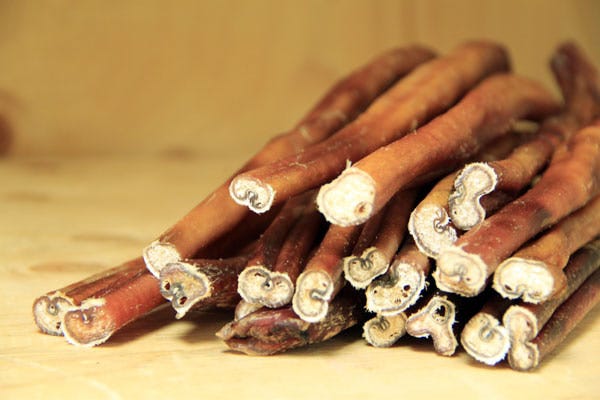 Bully sticks are another very popular type of long lasting dog chew. Bully sticks are all natural, high in protein, and low in fat. This makes them an excellent choice for even the most sensitive stomachs.
Have a picky eater? Bully sticks are rich in flavour, satisfying even the pickiest palates.
In comparison to rawhide chews, bully sticks are much easier to digest. They also have more nutritional value, making them the clear choice for health-conscious owners.
You can expect high value and quality with bull sticks, but a higher price tag than rawhide. Concerned about price? Fortunately bully sticks are available in larger bulk packs to reduce the cost for regular bull stick shoppers.
Also called pizzle sticks, bully sticks are available in a variety of shapes and sizes, so you can find the most suitable chew for your dog's size and chewing habits. Bully sticks are safe for all ages, so you can be assured you are giving your pet a healthy, safe, and effective chew.
3. Elk Antler for Dogs
Another chew that has gained popularity recently is elk antler. Made from deer or elk antlers, antler chews are by far the most durable of all the chews.
Deer or elk antlers are readily available in a number of shapes and sizes. These chews feature a marrow core and a mild flavour. All natural and 100% mess free, elk antlers are definitely the way to go for tough, determined chewers.
Since elk antler chews cannot be broken apart or chewed into pieces, they are safe to leave alone with your dog. And, this same quality means they can last days or even weeks longer than other chews.
Choosing the Right Chew for Your Dog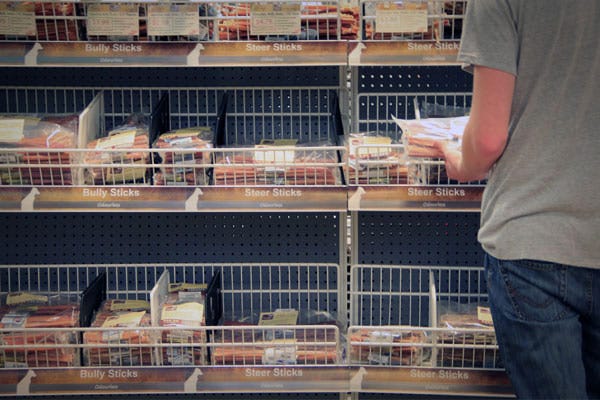 The choices for dog chews are seemingly endless. Choosing the right chew for your dog depends on many factors:
Durability
Quality
Price
Smell
Flavour
How messy the chew is. Will it leave a stain? Can your dog take the chew outside?
Size. Ideally you should find a chew that is large enough to occupy your dog for a substantial amount of time. But don't go too big! If your dog is unable to get their mouth around the chew, he may get bored or frustrated and stop chewing it.
While these dog chews all have unique benefits, they have certain common attributes as well. Try any one of these types of dog chews to improve dental health, minimize boredom, eliminate begging, or just to show your dog he's appreciated. Aside from everything else, dog chews are a great way to enhance the quality of your dog's life.
---
Posted by Amy Dyck
---